Global Prayer for the Oppressed & Ramadan Fundraiser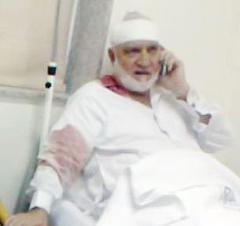 UPDATE:: Shaykh Usama al-Rifa`i, over 80 years old & one of the leading scholars of Damascus was assaulted and beaten up at his mosque by the Syrian security forces. He is now hospitalized.
Join us today for the SeekersGuidance End of Ramadan Webinar, which we will begin by reciting the Dua al-Nasiri & Hizb al-Nasr, for victory for the oppressed around the world.
To download a PDF copy of the Dua al-Nasiri, beautifully translated by Shaykh Hamza Yusuf, please visit – http://j.mp/dua-nasiri
SeekersGuidance is transitioning to making *all* its educational services completely *free*. To do this, we need your donations & support. Give what you can, and encourage as many people as you can to also give. We are aiming to raise at least $100,000 by the end of Ramadan. With your help, this should be possible, insha'Allah.
August 28 – 1:30pm PST / 4:30pm EST / 9:30pm GMT / 6:30am Sydney (Mon. Aug. 29)
Join us to learn more about our Knowledge Without Barriers campaign and help us spread Islamic knowledge to the greatest number of people with the greatest benefit possible.
To donate immediately, and for more information regarding our Knowledge Without Barriers campaign: https://www.wepay.com/donate/sg_kwb
To read more about our milestones, where funding will flow and our organizational structure, please visit our Support Us page: http://seekersguidance.org/support-us
Join us on our Facebook event page – http://www.facebook.com/event.php?eid=167625123313422