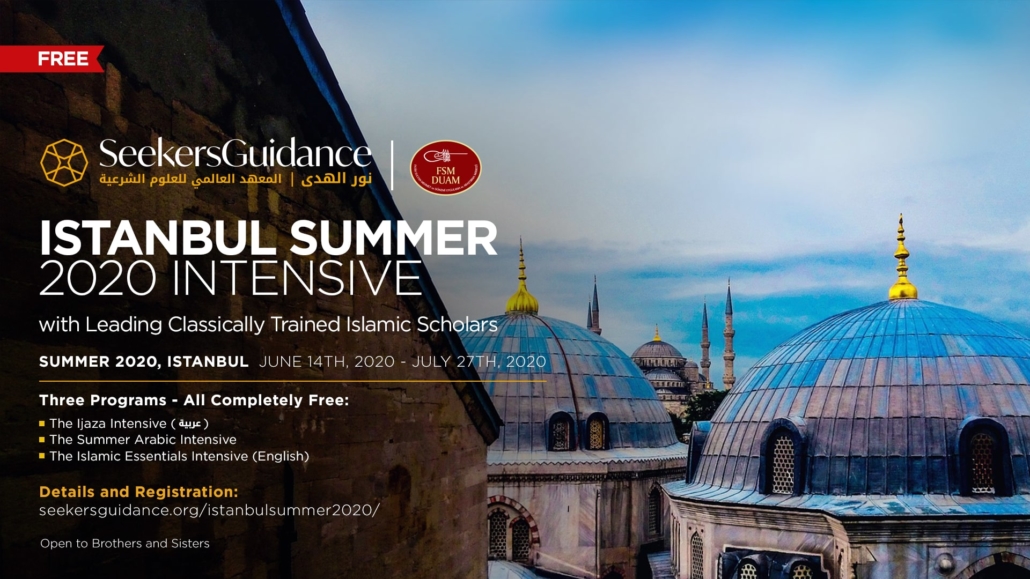 Istanbul 2020 Summer Intensive
SeekersGuidance is offering students from around the world an opportunity to spend the summer in an immersive learning environment. We are offering three streams of study for students at different levels and learning outcomes. Completely Free.
The Three Streams of Study:
The Ijaza Intensive gives students of knowledge the opportunity to read classical texts in Arabic in a wide range of key Islamic sciences with some of the leading scholars of our time, from Sham and elsewhere. (Free)
The Summer Arabic Intensive introduces students to Classical Arabic through effective teaching. Our experienced teachers will assist students in reading, speaking, and understanding the language of the Qur'an and the Islamic tradition. (Free)
The Islamic Essentials Intensive covers the personally obligatory knowledge that all Muslims must know. Students will complete Step One of our five-step Islamic Studies Program, in English, with qualified SeekersGuidance teachers. This represents a full year of Islamic studies in one Summer. (Free)
When: Summer 2020 (June 14th – July 27th)
Where: Istanbul, Turkey.
Who: Students who are interested in studying the Islamic Sciences. Open to both men and women.
*Students under the age of 18 must be accompanied by a parent or guardian.
Cost: Free
Registration Opens Soon!
Be the first to know that registration has opened. Fill out the information below:
*By signing up, you agree to receive emails and updates about SeekersGuidance.