Should Muslims be concerned about Haiti?
by Shaykh Jihad Hashim Brown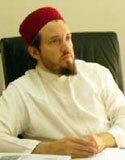 Shaykh Jihad Hashim Brown is director of research at the Tabah Foundation. He delivers the Friday sermon at the Maryam bint Sultan Mosque in Abu Dhabi
Eleven-year-old Anna St Louis was going to be a lawyer. For three days she lay trapped beneath the rubble of a building in Haiti, her right leg crushed by a steel beam. "Lord God save me. I don't want to die," she cried out. Far from the capital Port-au-Prince, far from assistance, neighbours tried desperately to cut the beam with a hacksaw, while others gave her water. Her final rescue was covered by international news agencies, the town celebrated, Anna was grateful. With nothing more than painkillers to give her, the Cuban doctor volunteering in that area advised that she must be taken three hours away where more sufficient medical care could be given. Anna was brave enough to suggest her readiness to have her leg amputated. "I may lose my feet, but I will always have my life," she has seen saying. But within 24 hours of being rescued, Anna had expired due to severe internal bleeding.
The first statement of the Prophet Mohammed to be taught to every student of Sacred Knowledge is: "Those who show compassion to others, compassion will be shown to them by the All Compassionate; show compassion to those in the Earth and those in the heavens will show compassion to you."
Some will inevitably say that this does not apply to the non-Muslim. "We should only give our assistance to Muslims," they will say. But an analysis of the above mentioned narration does not bear this out.
https://seekersguidance.org/wp-content/uploads/2010/01/jhb.jpg
160
125
Content Team
https://seekersguidance.org/wp-content/uploads/2021/03/sg-logo.svg
Content Team
2010-01-27 14:53:23
2019-04-26 18:50:27
'Should Muslims Be Concerned About Haiti?' by Shaykh Jihad Brown – The National (Abu Dhabi)