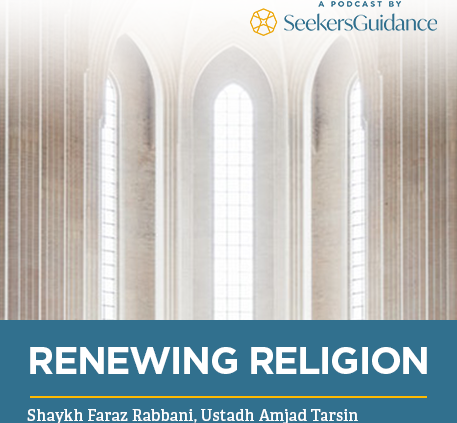 25-Patience & Thankfulness, Fear & Hope, Poverty & Abstinence- Renewing Religion- Ustadh Amjad Tarsin
---
: Play in a new window | Download to your device (25.5MB)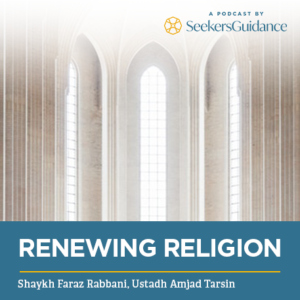 In this lesson, Ustadh Amjad Tarsin gives an overview of the chapters on patience and thankfulness, fear and hope, poverty, and abstinence from Imam Ghazali's Ihya.
In this chapter, Imam Ghazali explains that faith is of two halves: half is patience and half is gratitude, and having certainty of Allah is the whole of faith. Ustadh Amjad explains that everything that one goes through in life is neither a blessing or punishment rather our response to it is what matters. That is why the Prophet would pray to Allah not to turn away His decree but to have gentleness in His decree.
The next section of the lesson deals with the chapter on thankfulness. Allah says that if you are thankful then Allah will increase you. Ustadh Amjad advises that we should be especially thankful when we have things to complain about, turn to your numerous other blessings and be thankful for them.
Ustadh Amjad then speaks to the chapter on fear and hope and explains that one should have a balance of both. On fear, he says that some of the most fearful people are the companions of the Prophet, particularly those that the Prophet had told them that they would enter Paradise. However, one should also have hope in Allah's mercy.
Remember that particularly when you sin and want to return to Allah. But one should never underestimate the gravity of their shortcomings and that should always push us to do better.
Lastly, Ustadh Amjad speaks to the chapter on poverty and abstinence. Our deen advises us to have less, and the Prophet would often praise the poor people of the community. The Prophet would continually warn of worldliness.
Ustadh Amjad counsels us to not be attached to the things of this world but attached to the things that one can do in this world that will yield results in the hereafter.
In this brief overview of Imam Ghazali's opus magnum, Ihya Ulum al-Din (Renewing the Religious Sciences), this series will serve as a blueprint for how the believer can bring to life their religion. It will aim to help the believer to not just practice the form of the religion properly, but to also practice it with excellence.
For more SeekersGuidance podcast shows, visit seekersguidance.org/podcasts.
Help SeekersGuidance reach millions around the world through reliable knowledge and guidance from qualified scholars, completely free: become a monthly supporter – www.seekersguidance.org/donate
https://seekersguidance.org/wp-content/uploads/2020/04/Renewing-Religion_Podcast-Detail-Page_457x457.png
457
457
https://seekersguidance.org/svg/Logo/SG_Logo_v23.svg
2020-05-18 16:55:16
2020-05-18 16:59:22
25-Patience & Thankfulness, Fear & Hope, Poverty & Abstinence- Renewing Religion- Ustadh Amjad Tarsin