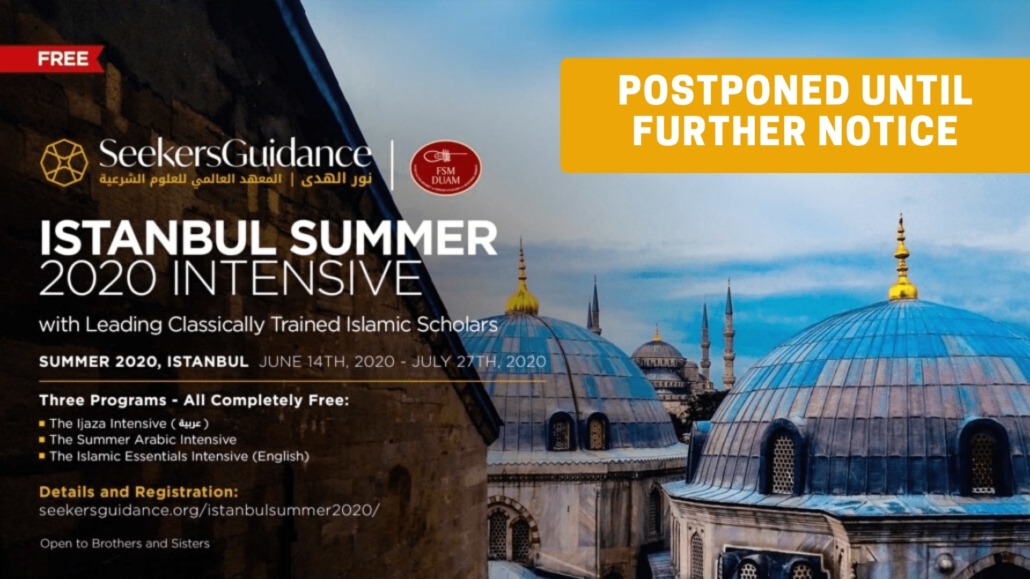 We hope that you and your family are keeping well in these difficult times. Due to the current conditions around the world, we regret to inform you that we have been forced to postpone the SeekersGuidance Summer Intensive until further notice.
However, we are committed, as always, to continue offering reliable and authentic Islamic knowledge without barriers.
Here are a few things that you may benefit from as we await relief during these tough times…
The SeekersGuidance COVID19 Webinar
Last week SeekersGuidance put together an important webinar to provide clarity in these challenging times with Muslim scholars, teachers, medical professionals, and thought leaders from around the world.
Missed it? Don't worry, we've got you covered. Click here to watch now.

SeekersGuidance Course Registration Opens Soon – We're Launching an Exciting New Open-Course System. Plus Dozens of Free On-Demand Courses on a Wide Range of Subjects Available Now.

We're live-streaming classes with qualified Muslim scholars from around the world. Everyday. Don't miss out, click here to view our daily live schedule, and connect to Prophetic Guidance today!
Deserving Muslim Scholars Need Your Help Now

The current COVID-19 crisis and the ensuing lockdowns are creating havoc in the lives of scholars–many of whom are now unable to teach; their classes are cancelled–for many, their already precarious livelihood is threatened. Give your zakat and charity now to urgently assist them through the Islamic Scholars Fund.
To read more about the situation, click here.