One Year Intermediate Program in Hanafi Fiqh and Usul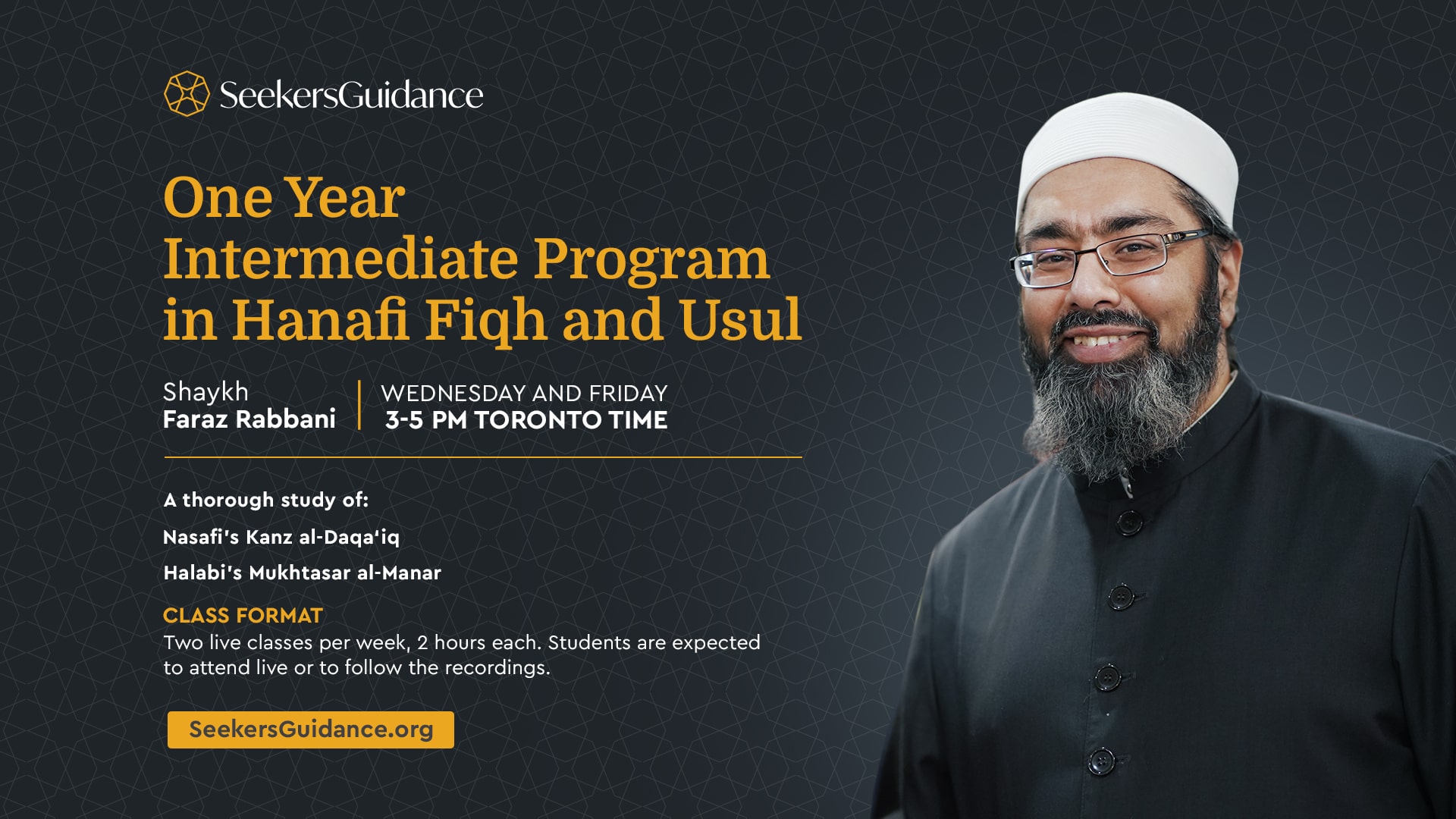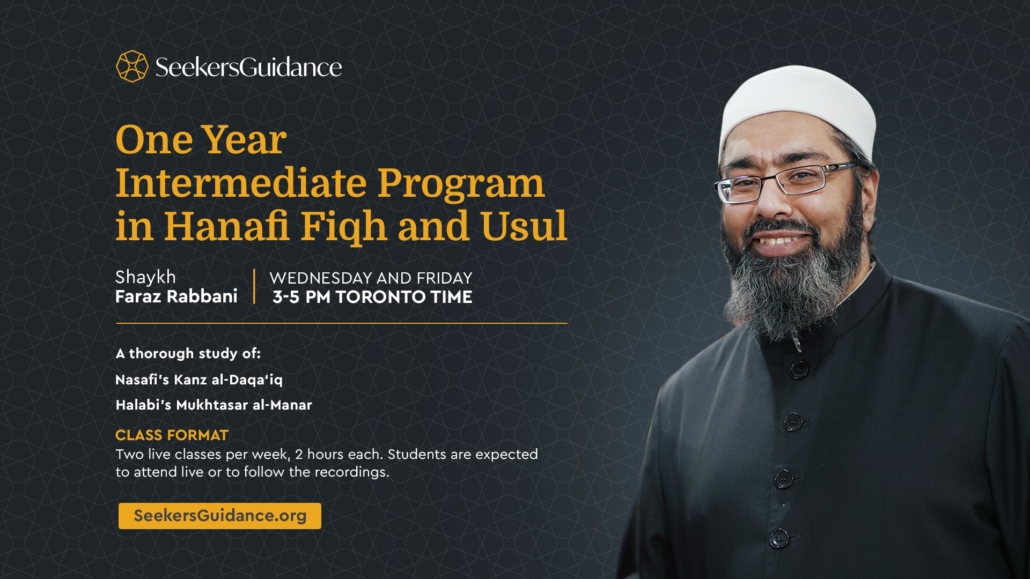 Nasafi's Kanz al-Daqa'iq (Level Three) with Halabi's Mukhtasar al-Manar (Level Two) with Shaykh Faraz Rabbani
In the Name of Allah, Merciful and Compassionate, with blessings and peace upon our Master Muhammad, his folk, and companions
Shaykh Faraz Rabbani, founder and senior instructor at SeekersGuidance, will be teaching a live weekly class covering two key texts in Hanafi fiqh and usul over one year:
One. Imam Nasafi's Kanz al-Daqa'iq (Level Three of the SeekersGuidance Islamic Studies Curriculum), in full–with extensive readings from Imam Abu 'l-Su'ud's Hashiya on Mulla Miskin's Commentary; Afghani's Kashf al-Haqa'iq; and other Hanafi reference works.
Two. Ibn Habib's Mukhtasar al-Manar, an abridgement of Imam Nasafi's Manar in usul al-fiqh (Level Two)–with reference to Ibn Qutlubugha's Commentary, and other essential readings.
Class Format
Two live classes per week, 2 hours each. Students are expected to attend live, or to follow the recordings.
Preparation, participation, questions, and doing recommended readings is expected.
There will be an online forum for questions, discussion, and for related texts, and resources. The pdf of the commentary and other important works will be provided.
Conditions for Joining the Class
This is an intermediate level class in Hanafi fiqh (Level Three) and usul (Level Two of the Seekers Islamic Studies Curriculum)
Students are expected to have completed the equivalent of the Level One and Two requirements in Hanafi fiqh–such as having completed Quduri's Mukhtasar, or Mawsili's Mukhtar under a teacher.
For students without this, we recommend that they begin with Level One, then Level Two of the Islamic Studies Curriculum.
Student Expectations
The expectations from the students would be to:
One. Prepare for the class.
Two. Attend the class, with attentiveness, [b] participation, [c] asking questions.
Three. Review the class notes and text. Diagramming the text helps.
Four. Take notes. It is best to write out the matn itself, and essentials from the commentary (such as the key details and reasoning). This is also good Arabic writing practice.
Five. Participate in the Class Forum–by asking questions, sharing issues of benefit, and getting involved in the relevant discussions, with the proper manners of a keen seeker of knowledge (talib `ilm).
Six. Seek Allah's Pleasure, and have high secondary intentions of acting upon what you learn with excellence, preserving and transmitting Prophetic guidance, to benefit yourself and to benefit others, and to gain all the benefits mentioned by Allah and the Messenger (peace and blessings be upon him) for those who seek and transmit sacred knowledge for the sake of Allah.
And Allah alone gives success.
Registration for the live program is now closed. This program will be made available once it's completed. Sign up for our newsletter below to keep up to date with new classes and programs.
Oh no...This form doesn't exist. Head back to the manage forms page and select a different form.
https://seekersguidance.org/wp-content/uploads/2020/06/One-Year-Intermediate-Program-in-Hanafi-Fiqh-and-Usul_1080x1080-2-min.jpg
1080
1080
Raheel Khosa
https://seekersguidance.org/svg/Logo/SG-Logo-Main.svg
Raheel Khosa
2020-06-25 17:42:41
2020-09-02 10:02:59
One Year Intermediate Program in Hanafi Fiqh and Usul