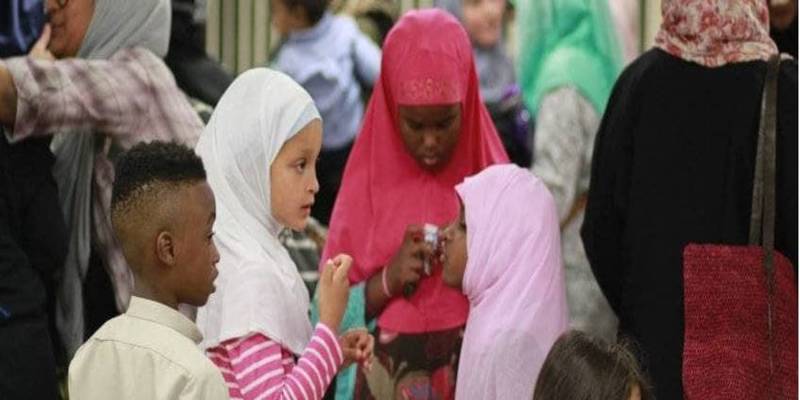 Playing Kids, Praying Adults: A Taraweeh Lesson – Saad Razi Shaikh
---
Ramadan is a good time to teach children. And to learn from them.
Those who spend (of that which Allah hath given them) in ease and in adversity, those who control their wrath and are forgiving toward mankind; Allah loveth the good. (3:134)
Sometime in early Ramadan, our blessed mosque was hit with an expected Taraweeh problem. This was a menace many foresaw, but few had the stomach to tackle it. The problem was of children. Yes, children running around Taraweeh, screaming their lungs out, creating a racket not unlike birds on an early morning. Elders were distraught, they were bound by the obligation to be kind to children, while at the same time they desired a hassle-free Taraweeh. It took two spirited warnings from the Imam to cut the din out and restore some normality. Save for the odd kid, still merrily gliding from the stair rails, the prayers went about with little disturbance.
My own thoughts on the matter were torn between two urges. The first was to show patience and mercy to the kids. The next, more pressing desire, was to send them back home. Surely, there had to be some decorum in the mosque? Kids need to be taught by their parents as much, I reasoned. Otherwise, how on earth were the worshipers supposed to pray? The mosque would not be reduced to a child's playground.
But this line of argument couldn't hold for long. If the children were not praying, rather playing during the prayers, it was because they did not know any better. Their nature was not attuned to silence and attention, and they fell easy prey to distraction. One mischievous glance would bounce off from one child to the other, an elbow jab, a back slap, all before it would spread into a full-blown pandemonium. The children were just acting upon their distractions.
Acting upon their distractions. These words stuck to my mind, for they made me uncomfortable. As an adult, I knew the importance of the prayers. I knew the importance of attention. I had been taught the manners regarding the prayer. Yet my prayers were far from perfect. At the spiritual level, particularly retaining to attention and reflection, I knew my prayers fell well short of the desired levels. Was it not true that my mind wavered often? On particularly tiring days, did my attention not slacken? The more I reflected on my own shortcomings, the more the noise of the children receded away from my mind. For while both the children and I were distracted, falling woefully short in our prayers, the distraction of the children was visible. Mine wasn't. That was the lone difference between us.
Imam Ghazali, in his characteristic brilliance, mentioned in 'The Beginning of Guidance' that one shouldn't see oneself as being superior to anyone else, even children. He writes:
'If you see a child, you should say [to yourself], "This child has not transgressed against Allah, and I have, so certainly he is better than me."
'If you see an ignorant person, say, "This person has transgressed against Allah most high in ignorance, while I have done so knowingly, so Allah's evidence against me is greater. And what do I know about what my final state [at death] will be and what his state will be?'
This short piece is not intended as a manual on how to go about dealing with children in mosques. Rather, it is about how the pulls and the triggers of everyday can serve as a means to check ourselves, who we are and where we are in our standing with our Lord. We often fall prey to the slightest provocations, the slightest turn away from the expected norm. Things often 'rub us the wrong way'. Ire is predictable as the first line of reaction. But if we restrain for a moment, and prevent the worst of our impulses from bursting out, we could look into the clues the situation is providing us.
Abu Huraira reported that the Messenger of Allah, may Allah bless him and grant him peace, said, "I was sent to perfect good character." Ramadan is the perfect month to better ourselves, to begin anew, to hold our tongues, to watch what we do, to reflect on what can be the better course of action. If the kids are creating a racket, perhaps it's a test to see which one of us will show mercy to them, which one of us will rise to the Prophetic ethos and show the best of character. It's easy to lose our patience, if not our minds. But as the Prophet ﷺ reminded us, 'Circumspection brings nothing but the good.' We need to remember this, in thought and action. We need to be those who remember the rank of forbearance, as 'forbearance (hilm) is the best of character'. And that's a struggle. But without the inner struggle, how will we improve?  
These are reflections, meant as a reminder, a 'pull-up-your-socks' moment first and foremost for my own self. Would I be more comfortable with silence during prayers? Certainly. Would I have improved as a person if the calmness of my own mind overcomes the noises outside it? Most certainly. This is the aim, Inshallah. And Ramadan is a great time to intend it sincerely, in thought and practice. May Allah make us those who are patient, who are kind, who are attuned to the Prophetic ethos, particularly in showing mercy, to ourselves and to others.
---
Saad Razi Shaikh is a journalist based in Mumbai. He writes on popular culture and community initiatives. He can be reached on Twitter @writweeter
---
https://seekersguidance.org/wp-content/uploads/2019/05/rsz_seekershub-children-845x321aaa.jpg
400
800
Yousuf Patel
https://seekersguidance.org/svg/Logo/SG_Logo_v23.svg
Yousuf Patel
2019-05-27 19:10:59
2020-06-09 17:33:31
Playing Kids, Praying Adults: A Taraweeh Lesson – Saad Razi Shaikh