Saving Our Souls Series | Part 7: 38 Sins of the Tongue – Shaykh Yusuf Weltch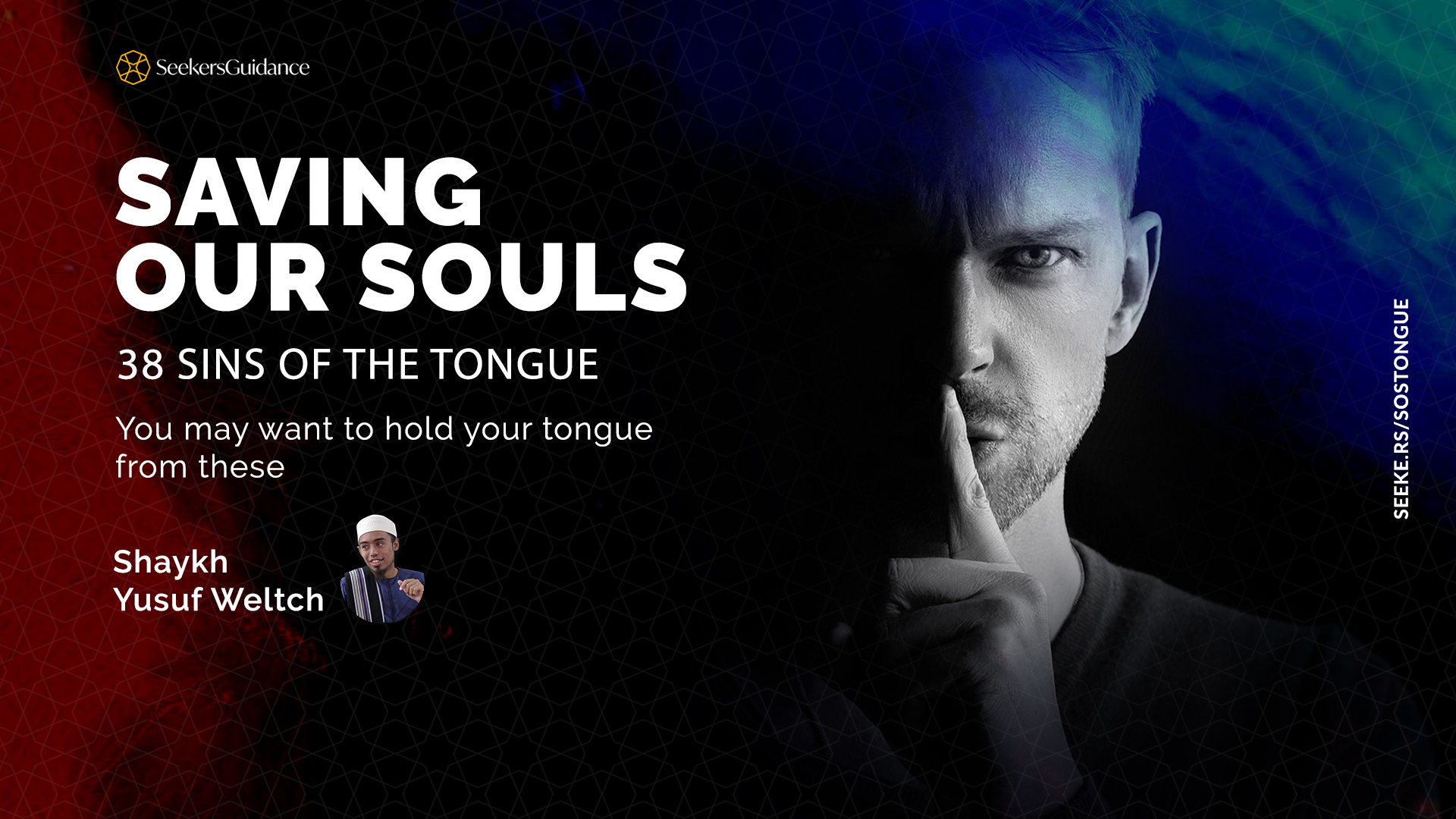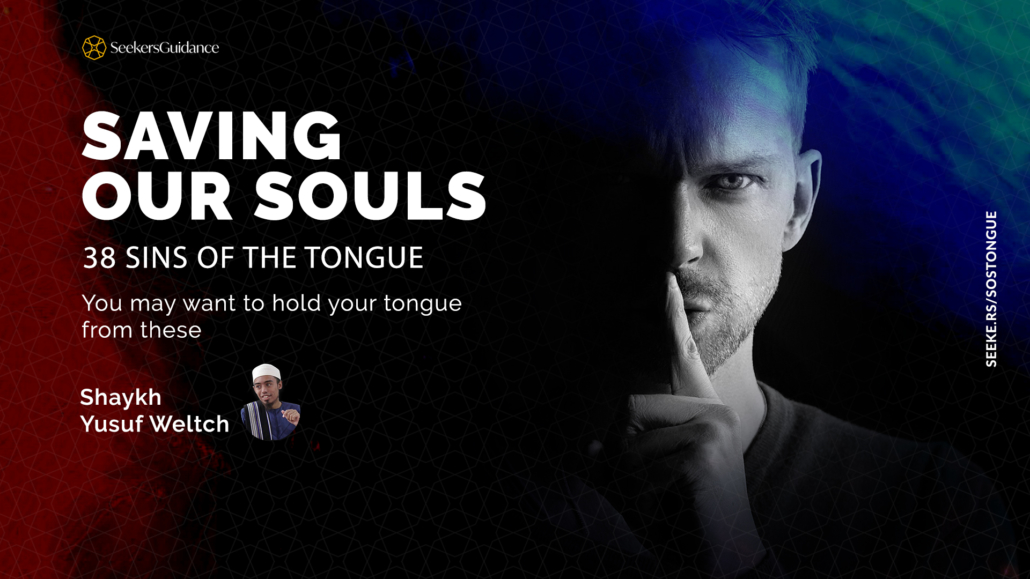 Every word we utter, whether good or bad, is recorded.  Every statement we make has a witness. Allah says:
"He (i.e. man) does not utter a single word without an ever-present watcher." (Qur'an, 50:18)
The two most difficult body parts to protect and avert from sin are the tongue and the private parts – so much so that our beloved Prophet – Allah bless him and give him peace – said:
"Whosoever gives me a guarantee to safeguard what is between his jaws and what is between his legs, I shall guarantee him Jannah." (Bukhari)
What is between his jaw refers to the tongue; both what it expresses and what it consumes. What is between the legs refers to the private parts (the sins of which will be addressed in its own article soon).
When the believer protects his tongue from the following list of sins the reward is nothing but paradise.
What we utter, but by extension what we type online as well.
From the sins of the tongue are the following:
Backbiting

To mention something about your fellow Muslims, in their absence, which they dislike, even if it is true.

Tale-telling

To convey the statement of someone to another intending to cause corruption.

Instigating harm without right

To instigate the harming of another without conveying another's statement. This applies even if between animals.

Lying intentionally

To say that which is contrary to reality

False oaths

To swear by Allah or one of His attributes upon a matter that the one swearing knows is false.

If one swears knowingly lying about a past matter it is called an immersing oath (al-yamin al-ghamus). It is called that because it immerses the one who commits it into sin or the Hell-Fire. It is of the major sins because swearing by Allah upon that which is contrary to reality is a manifest violation of the sanctity of the Religion. Repentance and expiation are therefore due.
As for the one who swears to leave a permitted thing then does that thing they must do an expiation but they are not sinful. For example, if one says, "I swear by Allah I will not drink tea" then they drink it.
Likewise if one swears to do a permitted thing then does not do it they must perform an expiation but are not sinful. For example, if someone says, "I swear by Allah I will drink tea today" then the day passes and they did not drink tea.

Words of accusation of fornication

These are many. In summary, every word which ascribes any human or relative to the act of fornication. This is an accusation of the one being ascribed to fornication. That is whether it is a general clear accusation or an indirect accusation with the intention of accusing.  The free accuser is punished with 80 lashes and the slave with half of that.

Insulting any single one of the Companions of the Prophet (may Allah bless him and give him peace) or His family. As for insulting all of them together, this is disbelief.
False testimony
Breaking of promises

To break a promise after having made it while harboring the intention not to fulfill it.

The delaying of an able person to fulfill their debts

For the able person to procrastinate and delay in the fulfillment of a debt which the one owed seeks fulfillment of.

To verbally abuse, insult, or curse with no right to do so
Belittling a Muslim
Addressing any Muslim with harmful words
Lying against Allah Most High or His Messenger (may Allah bless him and give him peace). This could even be tantamount to disbelief.
Making false claims to the judge or any other.
Effecting an innovative divorce.

The innovative divorce is that which is affected during a period of menstruation; or in a state of purity in which intercourse was made; or if intercourse was made during the period of menstruation which preceded the divorce.

Zihar

Zihar is to claim a resemblance in impermissibility between one's spouse and a non-marriageable family member or even one of their limbs. Its meaning entails an explicit declaration that he will never have intercourse with her. If one does not immediately affect an actual divorce after the zihar they must perform an expiation.

The expiation for zihar is the freeing of a believing slave. If one is unable to do so they must fast two consecutive months. If they are unable to do that they must feed (i.e. transfer ownership of food to) sixty poor persons each getting a 'Mudd' of any type of food which is valid to give for Zakat al-Fitr.

Intentionally making a mistake in the Qur'an

This applies to changing the vowel signs even if it does not disturb the meaning.

For one who has sufficient wealth or means of earning to beg
A vow made with the intention of depriving an inheritor their inheritance

A vow means to impose upon one's self the obligation of performing an act of worship which is not inherently obligatory. This is done by saying, 'Obligatory on me, for the sake of Allah, is that I will give such and such amount of money to the poor.' By doing this it is obligatory for him to give the mentioned amount to the poor. However, if this is done so that one does not leave behind wealth for his inheritors it is strictly prohibited.

To neglect to leave instructions to fulfill a debt or return an item that no one other than him knows of.
To attribute a lineage to other than one's real father or former masters.
To put forth a proposal despite the proposal of one's fellow Muslim
To give a legal Islamic ruling without the prerequisite knowledge, even if it is correct.
To teach or to learn a harmful science without a religiously sanctioned reason.
To judge by other than the ruling of Allah Most High
Excessive mourning and wailing over the deceased.
Any speech which encourages the prohibited or makes others lax regarding an obligation.
Any insult of the religion, any one of the Prophets, the scholars, sacred Islamic knowledge, the sacred law, the Qur'an, or any of the symbols of Allah Most High.
Whistling in a way that resembles musical instruments.
Being silent from commanding the good and prohibiting the wrong without excuse.
Concealing obligatory religious knowledge when it is sought.

This applies if there is no one else who can teach them.

Laughing when another passes wind.
Laughing at a Muslim out of belittlement.
Concealing testimony, when called to testify or without being called when testifying becomes obligatory on them.
Forgetting the Qur'an.

Some have explained this to mean not acting upon the Qur'an.

Not replying to Salam which is obligatory upon one.
Desire arousing kissing (such as the kissing between two spouses with desire) for one in a state of Ihram; or the fasting person if there is fear of ejaculation; or kissing anyone who is impermissible to kiss.
May Allah forgive us the sins we have uttered.
https://seekersguidance.org/wp-content/uploads/2020/08/SOS_38-Sins-of-the-Tongue_1080x1080.jpg
1080
1080
Ahmed D.
https://seekersguidance.org/svg/Logo/SG-Logo-Main.svg
Ahmed D.
2020-08-31 20:00:16
2020-08-31 20:00:16
Saving Our Souls Series | Part 7: 38 Sins of the Tongue – Shaykh Yusuf Weltch