Many of you are wondering what happened to the online courses at SeekersGuidance Global Islamic Seminary?
First, our On-Demand courses are still available. We have dozens of downloadable courses on a wide range of topics, all completely free.
Some of our courses include:
So… Where are the "Term-Based" Courses? (The Good News)
SeekersGuidance has grown, Alhamdulillah. By the end of 2019 we had passed 250,000 student registrations in our online courses–all of which are taught by qualified scholars, and all of them completely free.
We think deeply about how to be of the greatest, widest, truest, and deepest benefit. As a result–based on our team's experience, consultation, consideration, and discussion–we have taken a bold new step:
We're scrapping the Term-based course system, and adopting an Open Course system. Our new course offering–with almost 25 new courses–is launching on March 31st, insha'Allah.
What is this New Open Course System?
In our new Open Course system:
One. Anyone can register for any course, any time.
Two. You can complete the course at your own pace.
Three. You have retain full access to the lessons; assignments; forums; and live sessions with the teachers–for as long as you need to complete the courses.
Four. Reminders will be customized to your individual course completion.
All our courses remain completely free, Alhamdulillah.
How We're Enhancing the Student Learning Experience
With this, we're enhancing the learning experience at several levels, including:
One. We have a completely revamped course catalog–not only much more elegant, but also much clearer in terms of the wide range of our offerings (over 150 courses!).
Two. All our offerings are more clearly divided into structured learning streams and levels–with clearly-defined learning outcomes. We presently have five learning streams:
The

Seekers Islamic Studies Curriculum

(formerly, the Steps Curriculum)

The

Seekers Learning Arabic Curriculum

The

Seekers Youth Islamic Studies Curriculum

; 

The

Seekers Live courses

–which are the current classes being taught live by the Seekers teachers, daily, across the world; and

The

On-Demand Courses

–which are more general Living Guidance courses on a wide range of issues and subjects.
Three. Enhancing the student learning experience by significant upgrades to the Learning Management System (LMS); its interface; its useability; its mobile interface.
Four. After this, we're implementing a world-class Student Information System, to (1) give each student clarity on their learning progress and next steps; (2) assist our teachers in mentoring students; and (3) facilitate fruitful student-teacher relationship that is key to a successful, fruitful learning journey.
"The teacher and the student are partners in good," the Prophet (peace and blessings be upon him) said, [Ibn Maja and Tabarani] 
We're working to revive this blessed partnership, which transmits the blessing of Prophetic inheritance–reliable, uplifting knowledge and guidance that spreads benefit, light, and good in lives, communities, and this world.
The Seekers Growth Fund
This is part of the investment SeekersGuidance is making in improving the benefit, reach, and impact of our educational offerings. We have set a goal of reaching one million students served through our online courses by the end of 2022, insha'Allah. And we're aiming to transform the impact and benefit of our offerings, as well–while keeping everything completely free.
For this, we need your support. The Seekers Growth Fund aims to raise $1 million in 2020, to invest across six critical projects related to expanding the reach and impact of our knowledge and guidance offerings.
By investing in the SeekersGuidance Growth Fund the IMPACT and BENEFIT of your support will be tremendous. Just some of the ways you will help:
Build an Online Learning Arabic Program that will serve at least 100,000 students in the next 3 years.
Tens of thousands of students gain a deep understanding of the Qur'an through the Seekers Qur'anic Literacy Certificate and reach hundreds of thousands–potentially millions– through the Qur'an Tafsir Project and the Qur'an App.
Preserve and spread the beautiful legacy of Syrian and Yemeni traditional Islamic scholarship–characterized by its balance, moderation, and depth–in times when it is urgently needed.
Train high-level scholars to be able to address the critical issues of this age–to give clarity to individuals and communities in otherwise confusing times.
The Seekers Youth Certificate and Seekers Youth Guidance reach thousands of young Muslims around the world–giving clarity and certitude to our children in confusing times.
Give generously to support the Seekers Growth Fund, to help us build the world's first truly Global Islamic Seminary.
WE NEED YOU TO BE A PART OF THIS GROWTH
No other Islamic project reaches as many people, so consistently, so easily, with such clarity.
THIS IS THE PRESERVATION OF THE PROPHETIC TRADITION.
Please give generously to support the Seekers Growth Fund, to help us build the world's first truly Global Islamic Seminary.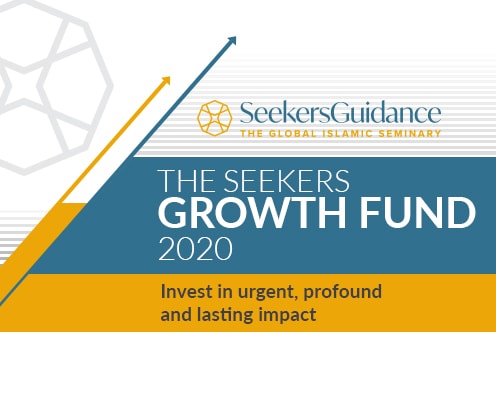 You can also mail cheques to:
SeekersGuidance Inc.
PO BOX 261
Washington, United States
99004
The Seekers Growth Fund also accepts charitable loans (qard hasan). To set this up, please email [email protected]
Jazakum Allah khayr.
https://seekersguidance.org/wp-content/uploads/2020/03/What-happened-to-our-courses_.jpg
400
495
Raheel Khosa
https://seekersguidance.org/wp-content/uploads/2019/08/SG-Logo.png
Raheel Khosa
2020-03-19 15:20:15
2020-03-19 19:46:06
What Happened to the Online Courses at Seekers? (Exciting new course format!)