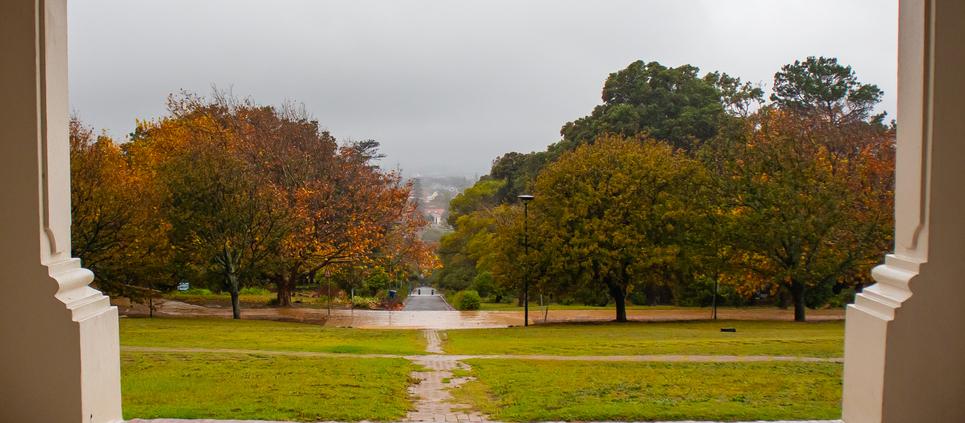 The Strong Believer: Grounding before Ramadan (Cape Town, South Africa)
---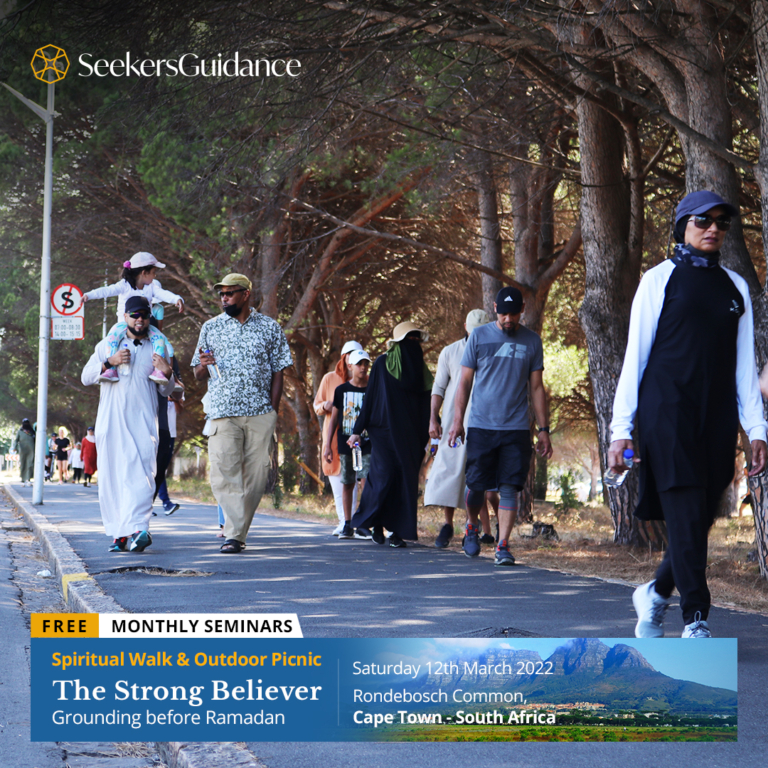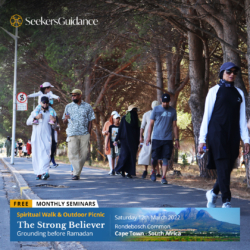 On Saturday, 12 March 2022, SeekersGuidance hosted a spiritual walk and outdoor picnic at the Rondebosch Common in Cape Town, South Africa.
Rondebosch Common is an open common of about 40 hectares (100 acres). A common is defined as "a piece of open land for public use, especially in a village or town." It is a National Monument and an important conservation area for the critically endangered Cape Flats Sand Fynbos vegetation.
This event is part of the SeekersGuidance Critical Issues Monthly Seminars. Cape Town has been the home of many SeekersGuidance events and programs in the past, including spiritual retreats and educational tours.
Held only a few weeks before the holy month of Ramadan, this seminar was aimed at offering a spiritual grounding with Shaykh Irshaad Sedick and Shaykh Muhammad Carr.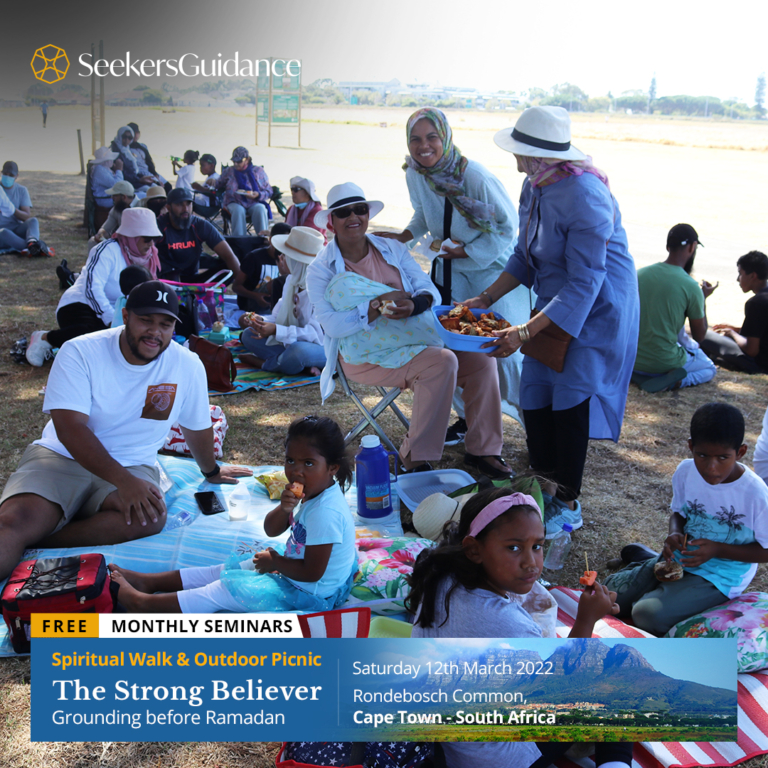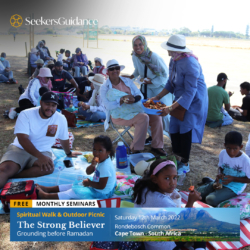 This was a family day. Our scholars joined members of the community in a light walk around the common, and people had the opportunity to engage with our scholars during this time.
While enjoying some snacks after the walk, Shaykh Irshaad and Shaykh Muhammad shared spiritual reminders through reflection on the blessings of Allah, and how that can support us in becoming strong believers.
The following main questions were covered:
1. What can we do to practically prepare our bodies, minds, and souls for Ramadan?
2. What Prophetic dietary guidance can we follow to ensure a healthy Ramadan, both physically and spiritually?
3. What was Ramadan like for the Prophet (peace and blessings be upon him) and the Companions (may Allah be pleased with them)?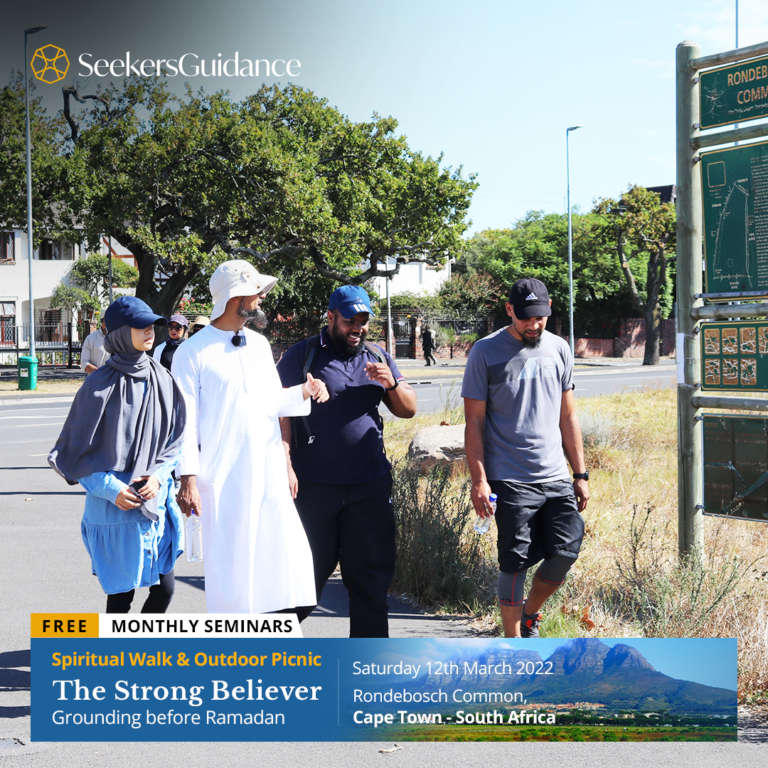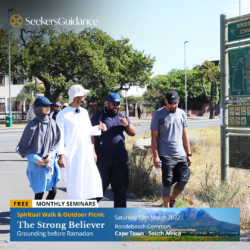 The community then took advantage of the opportunity to ask the scholars questions in this serene and beautiful environment.
This is a video of the event: The Strong Believer: Grounding before Ramadan
More events are planned for Cape Town, stay tuned to our social media and newsletter for updates.
Speakers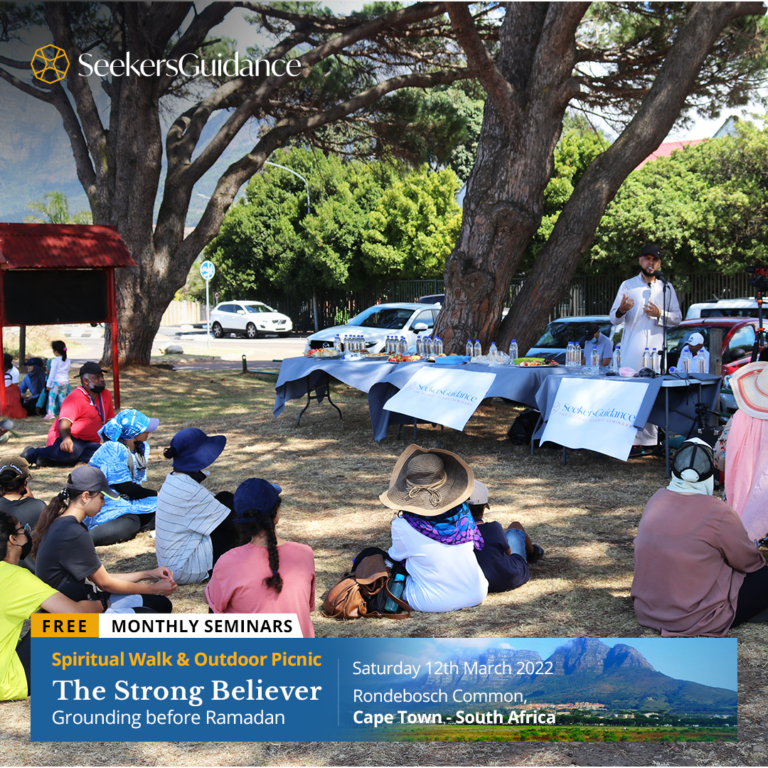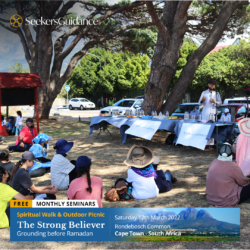 Shaykh Irshaad Sedick was raised in South Africa in a traditional Muslim family. He graduated from Dar al-Ulum al-Arabiyyah al-Islamiyyah in Strand, Western Cape, under the guidance of the late world-renowned scholar, Shaykh Taha Karaan. Shaykh Irshaad received Ijaza from many luminaries of the Islamic world, including Shaykh Taha Karaan, Mawlana Yusuf Karaan, and Mawlana Abdul Hafeez Makki, among others. He is currently pursuing his Master's degree in the study of Islam at the University of Johannesburg. He has a keen interest in healthy living and fitness.
Shaykh Muhammad Carr completed his memorization of the Quran at Dar al-Ulum Zakariyyah in September 1997 and received an Alimiyya Degree in 2006. He is also affiliated with Masjid Auwal in Bo Kaap, Cape Town (the oldest mosque in South Africa), where he serves as a co-imam, and Dar Al-Safa, where he has taught since 2018. His studies have taken him around the globe, where he has benefitted from many luminaries. Under the guidance of his teachers – Shaykh Taha Karan, Shaykh Yaseen Abbas, Shaykh Muadh Ali, and many others. He continues to pursue traditional Islamic Sciences, possessing a keen interest in Islamic Contract Law and Finance.
https://seekersguidance.org/wp-content/uploads/2022/03/Rondebosch-South-Africa-Garden-Field-Shutterstock-e1648767085626.jpg
562
965
Gökhan Soysal
https://seekersguidance.org/svg/Logo/SG_Logo_v23.svg
Gökhan Soysal
2022-03-31 22:27:10
2022-03-31 22:51:54
The Strong Believer: Grounding before Ramadan (Cape Town, South Africa)