Eid Poems: Ramadan Is Over… « Ecstatic Exchange / Poetry of Daniel Abdal-Hayy Moore
Ramadan is over, and I'll miss its strange intensity.
Dry mountains suddenly flower
purged of their pent-up poisons.
The air is the same, an
airplane
growling through it
overhead. Underfoot the same earth
slowly spins, but
with this month of time spliced neatly into our
time frame there's a
renewal, a re-
awakening to our
human strengths and
frailties, and the
sweet taste of relief that comes as a
friend. Such a wind
blows through palm trees at the edge of a sleepless sea,
such a powerful link-up with time
past and time future, with
long marches, endurance of prisoners of
conscience, famine, sudden
calamities on high snow mountain peaks when
storms from nowhere force climbers into a snow-cave with
few supplies and only the
warmth of each others' bodies to
stay alive –
images press forward, faces and thoughts of
people pushed to their limits
flood forward from their being where they are
to our Ramadan apprehension
in the luxury of our normal surroundings
with the Fast ordered from God through His
Prophet, peace be upon him, so that it has the
total weight and ring of
Divine obligation, the
daily observance, and the
celestial gifts at the end
which come as
abundantly as
dots of light in
space all around us
as we walk with our
faces turning left and right
at new worlds
springing to
life
all around us
as we
go.
1 Shawwal
For more excellent poems on Eid:
'Eid Poems: Ramadan Is Over… « Ecstatic Exchange / Poetry of Daniel Abdal-Hayy Moore
Born in 1940 in Oakland, California, Daniel Abdal-Hayy Moore's first book of poems, D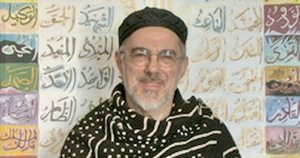 awn Visions, was published by Lawrence Ferlinghetti of City Lights Books, San Francisco, in 1964, and the second in 1972, Burnt Heart/Ode to the War Dead. He created and directed The Floating Lotus Magic Opera Company in Berkeley, California in the late 60s, and presented two major productions, The Walls Are Running Blood, and Bliss Apocalypse. He became a Sufi Muslim in 1970, performed the Hajj in 1972, and lived and traveled throughout Morocco, Spain, Algeria and Nigeria, landing in California and publishing The Desert is the Only Way Out, and Chronicles of Akhira in the early 80s (Zilzal Press). Residing in Philadelphia since 1990, in 1996 he published The Ramadan Sonnets (Jusoor/City Lights), and in 2002, The Blind Beekeeper (Jusoor/Syracuse University Press). He has been the major editor for a number of works, including The Burdah of Shaykh Busiri, translated by Shaykh Hamza Yusuf, and the poetry of Palestinian poet, Mahmoud Darwish, translated by Munir Akash. He is also widely published on the worldwide web: The American Muslim, DeenPort, and his own website, among others: www.danielmoorepoetry.com. The Ecstatic Exchange Series is bringing out the extensive body of his works of poetry, beginning in 2005 with Mars & Beyond, Laughing Buddha Weeping Sufi, Salt Prayers and a revised edition of Ramadan Sonnets, and continuing in 2006 beginning with Psalms for the Brokenhearted, I Imagine a Lion, Coattails of the Saint, Love is a Letter Burning in a High Wind, and The Flame of Transformation Turns to Light. Abdallah Jones and the Disappearing-Dust Caper is the tenth in the series, and the first for young adults in the Ecstatic Exchange / Crescent Series.