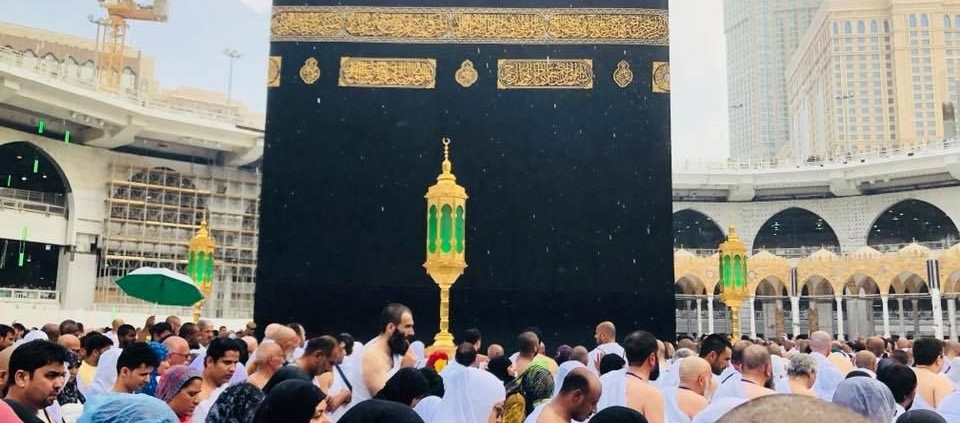 Essential apps for Hajj – Radical Middle Way
---
So you have parted with thousands of pounds and booked the journey of your life. You've bought a tonne of books and even attended a Hajj seminar. But you still want that little something that will serve as a reminder in case you become overwhelmed. You want something that is within easy reach at all times but not cumbersome to lug around. Well Hajji, you are in luck. There's an app for that too.
The Islamification of your iPhone
First up we need to kit out your iPhone with the right app. So head on over to the App Store on your iPhone and tap the search button. Enter "Hajj" as the search term and you will see an app in the list called "Hajj – Pilgrimage to Mecca" (price £2.99). Although, as you will see, there is a magnitude of apps out there we will be looking at this particular app as it is a good overall contender. Once you have located the app, tap install and let the phone work its magic.
Android users: You can find the same app in the Android marketplace for £3.18
Hajj – Pilgrimage to Mecca
OK lets fire up the app. As you can see from the menu, you can start using the app before you depart. One of the good things about this app is that the developers have tried to make it quite holistic. Take the first menu item for example – Preparing for Hajj. If you tap on this you will be presented with a sub-menu that contains three items: Intention, Packing and Travelling. Each of these sections contains practical advice that will help you prepare for the journey. At this point I should point out that the developers seem to be American and some of the terms are a bit American. In the "Packing" section for example they advise that you should take medication such as Tylenol. That is Paracetamol to the rest of us.
Hajj at a glance
In this section you are presented with two options – Visual Overview and Hajj Day By Day. The visual overview gives a nice map style view of the different stages of Hajj and the day by day guide presents what you need to do on which day in a table format. Very handy to keep track of things especially if you, like me, have been reduced to only comprehending information in table and map formats. You will likely use this section of the app quite regularly to keep track of where you are during Hajj.
Hajj Step by Step
This section does exactly what it says on the tin and in quite some detail too. Ideally you should read through this section before you depart for Hajj and maybe even flick through it again during the flight. You really need to retain as much of this information as possible before Hajj starts. This section of the app has divided the main components of Hajj into tappable (is that a word?) categories that then go into detail. You tap on the category then use the arrows to move through the slides.
Hajj Du'as
You can find many, many du'as in this section and they have been categorized as well. Again, you should try and memorise du'as before departing for Hajj. Having the du'as here is good but the reality is that when you are in your Ihram in the throng of a few million Hujjaj, it can be a challenge to whip out your phone, fire up the app and then read the du'as. This section should be used as a prompt in case you forget.
Visiting Madina
The overwhelming majority of people that go for Hajj also visit Madina; Madina, a beautiful, serene and blessed city. Many scholars have dedicated years learning about this city. You should dedicate at least a few hours pre-departure. This section contains good practical advice that will come in handy and can be used as reminders. As well as this section, I would recommend that you buy a good book on the history of Madina.
Miscellaneous
In this section you will find a mish mash of useful information that you can read at your leisure (possibly on the flight?). One section that I recommend you read before departing is the "Practical Guide" by Raza Mohiuddin (mind the Americanisms). There is also an Arabic Phrases section. Although somewhat useful I do recommend that you look into a proper Arabic phrasebook. Knowing a few phrases will let the locals know that you at least tried to learn their language and this is usually met with friendliness. Especially useful when bargaining.
So Hajji, there you have it. A pocket assistant (a metaphor as your Ihraam cloths will not have pockets – and if they do you need to speak with your Mu'allim) for the journey of your life. People who say technology and religion are not compatible will have to at least concede that technology can aid us in our religious activities. Humour aside, please keep us all at Ebrahim College in your du'as.
[source by Arman Ali]
https://seekersguidance.org/wp-content/uploads/2020/06/Hajj.jpg
720
960
Content Team
https://seekersguidance.org/svg/Logo/SG_Logo_v23.svg
Content Team
2011-10-29 03:04:46
2022-05-20 19:50:52
Essential apps for Hajj – Radical Middle Way