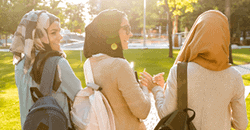 Interview with a Productive Muslimah – Michelle Harmer (Sister has Style)
---
As-salamu alaikum,
Alhamdulillah, our very own Sr. Michelle Harmer (SeekersSeminars department manager) was recently interviewed by Productive Muslim regarding productivity and her business Sister Has Style.
Below is an excerpt from the interview. You can read the full interview by going to the Productive Muslim Blog.
This interview is part of our In the Footsteps of Khadijah (may Allah be pleased with her)– Interview Series
We are pleased to interview another Productive Muslimah! The founder of Sister Has Style, We present to you Sr. Michelle Harmer. Begin with Bismillah and enjoy the interview.
Please begin by telling us about yourself.

Bismillah Al-Rahman Al-Raheem.
Asalamu alaikum wa rahmatullah, I'm Michelle Harmer, and I would  like to thank Productive Muslimah for arranging this interview with me, it's an honour to have been asked.
I was born and raised in Yorkshire, England, and I moved to Toronto, Canada in January 2009. I embraced Islam in 2004, shortly after completing my degree in retail marketing, after which I worked in children's fashion, and later on in Pharmaceutical marketing.
Since arriving in Canada, Allah has blessed me with many new opportunities and has opened doors for me to new friends, teachers, and means to being a more productive Muslimah. I started my fashion business in December 2009, and I volunteer with SeekersGuidance where I currently have a new role  as seminars manager.
Tell us about your business/ venture? Who are your target customers?
My business is called Sister has Style, and I work in partnership with the fashion designer, May Louie. We specialize in producing modest, stylish women's fashion, generally with a chic, European influence. We chose to offer both a ready-made collection, and also custom services for women who are looking for a unique item of clothing, or may find it a challenge to find ready-made items that fit really well.

I started this business with women like myself in mind: she won't compromise on modesty, and she would also prefer not to have to compromise on style. She's feminine, friendly and fun.
How (and why) did you start your first venture? Was it a success? If not, why?
The idea for my business started back when I first embraced Islam and began dressing modestly. Prior to that, I had always been quite trendy in my clothing choices, I had a strong preference for unique designs that nobody else was wearing yet which I picked up from my Mother. When I adopted a modest way of dressing however, I found that my clothing choices were much more limited and that I always had to compromise on achieving the individual style I really liked. Talking to other Muslim women I knew, I found that this was common.

When I moved to Toronto, my new situation allowed me to pursue putting the business idea into reality, so I started off researching what Muslim women really wanted. Of course there is no one answer to that question, but we are trying to cater for different tastes and practical needs as much as we can. We predominantly found that women liked a lot of what they found in general stores, but most of the time, they could not wear it due to the lack of modesty the garments offered.
I started first by researching the possibilities, then I sought counsel from people I trusted, then I performed the salatul istikhara. The rest was made easy after that, alhamdulillah.
We are helping women achieve their individual style, and preserving their modesty at the same time. That's a big success in my mind.
You can read the rest of the interview by going to Productive Muslim.
Wassalam,
https://seekersguidance.org/wp-content/uploads/2021/08/[email protected]
130
250
Content Team
https://seekersguidance.org/svg/Logo/SG_Logo_v23.svg
Content Team
2010-07-06 07:06:46
2022-05-19 16:45:14
Interview with a Productive Muslimah – Michelle Harmer (Sister has Style)