---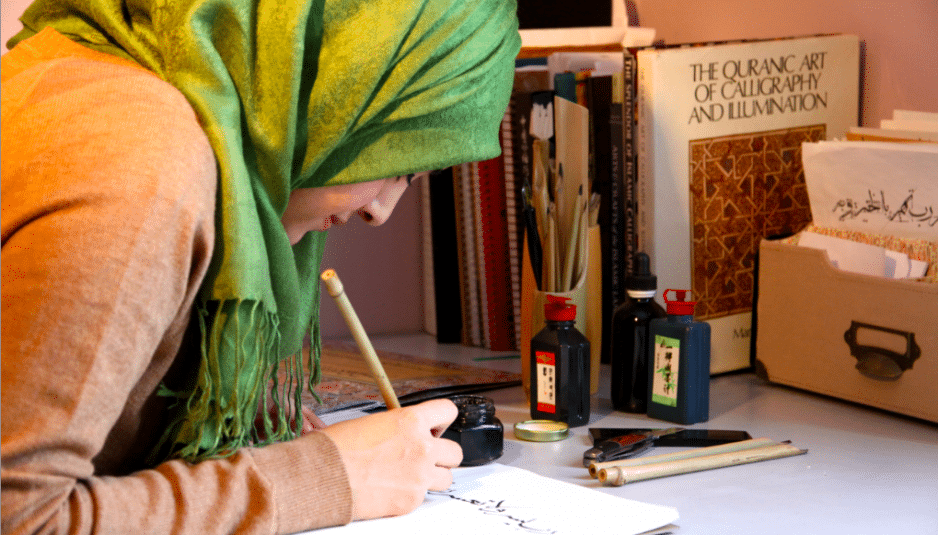 Conducting the interview for this month's "Spotlight on a Community Member" was both exciting and inspiring.
Sehar Shahzad is an artist who at a young age possesses incredible discipline and focus.  She has dedicated her spare time to the practice of calligraphy, and will soon be able to teach this ancient art to others.
Sehar is a 22-year-old Muslima born and raised in Toronto, Ontario.  Her composure is apparent in her work.  The technique, care, and attention to detail are evident in every one of the pieces I saw on Sehar's Facebook page.
She explained her connection to her art with a quote from the Quran: "Verily in the remembrance of Allah do hearts find tranquility," (Ch 13, v28).  At a personal level, Sehar explained, "We turn to Allah and make dua as a means of easing the heart.  In general, people turn to art or poetry or music to get away and for reflection.  I am able to connect this way – it eases the heart and it is doing dhikr.  It is a mechanism for release – an outlet to reach to Allah (SWT) and to find comfort, and further share this remembrance with others."
Sehar is a fourth year undergraduate, completing a degree in Psychology at the University of Toronto. Over the last four years, she has pursued her love for art.  For the past two years, she has dedicated herself to studying calligraphy. She is the student of Shaykh Yusuf Badaat, Imam of the Islamic Foundation School in Toronto, and Haji Noor Uddin, a world-renown calligrapher. Her courses with Haji Noor are through e-mail correspondence to/from China!
When asked about her future plans, Sehar explained that traditional calligraphy requires years of practice, as it is an art with many rules and technicalities that has been developed and preserved for hundreds of years.  She is therefore striving towards her ijaza (teaching certification) in traditional Arabic calligraphy. She hopes to teach this fine skill to others one day.
Sehar's passion has given root to her own budding Islamic art business. She has established herself as an accomplished freelance artist in Arabic and Quranic calligraphy by selling her professional work online and at popular events such as the Reviving the Islamic Spirit conference.  Other notable accomplishments include a magazine interview for London Link Magazine (in Ontario),  artwork commissioned by Taric Mosque and the new Muslim prayer room at the University of Toronto's Emmanuel College, as well as exhibits at the Royal Ontario Museum and the Art Gallery of Ontario.
I asked Sehar to define the essence of her inspiration and she immediately honored those that influenced her the most: "My parents say that if your heart is drawn towards something good, then Allah will make it easy for you.  These are heavy words – they remind me that intentions are key – that all is from God and we are the pen and He is the Hand – and I make sure that I remember this.  Secondly, my teacher, Haji Noor said to have passion, patience, and practice."
Sehar summed up her artwork as a "unique form of worship through reflection on the words of God."  The inspiration and advice she received from those closest to her is apparent in her work: passion for the arts, love for family, and devotion to Islam.
Sehar Shahzad's works can be found at www.seharshahzad.com.
Original article sourced from http://isnalanterns.com/2014/02/living-the-arts-sehar-shahzad/
https://seekersguidance.org/svg/Logo/SG-Logo-Main.svg
0
0
Content Team
https://seekersguidance.org/svg/Logo/SG-Logo-Main.svg
Content Team
2014-02-09 20:39:08
2019-04-06 10:07:01
Living the Arts – Sehar Shahzad by Seema Khan