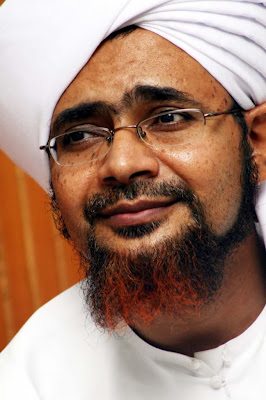 Habib Umar – Cautioning Against Greed and Materialism in Australia
---
Greed and materialism blamed for world woes – The National Newspaper
Conquering the pernicious greed that has savaged the global economy and curbing rampant materialism have been among the key messages brought to Australia by one of the eminent scholars of Islam, Sheikh Habib Umar Bin Salim Bin Hafiz.
Sheikh Umar has spoken to packed mosques and halls in Sydney during a hectic and much anticipated week-long Australian tour that also includes events in Brisbane and Melbourne.
To his supporters, the Yemeni-born cleric is a charismatic and revered descendant of the Prophet Mohammed.
To an enthralled audience of mostly Muslim students crammed into a lecture theatre at the University of Technology, Sydney, he emphasised the critical importance of self-control in suppressing the demons of selfish consumption.
"Those people who believe that this life is just a material existence will find that history has recorded many failures from them in the past and also in the present," said the softly spoken religious leader, his words in Arabic translated by a colleague.
"They have lost their values and in so doing have lost their very humanity and need to be emancipated from this material cage into a realm which is vast and more sublime.
"The greed for money that is unchecked will produce the likes of the current financial crisis that we see now, just as it has in previous times."
Speaking after his 40-minute address, he insisted that an insatiable desire for wealth was a cancer that had to be removed.
"When greed and avarice exist within a human being and they don't have control over them, this person will try to devise ways to bring wealth by any means. So, perhaps they won't mind if they have to be treacherous or plotting nor will they mind if they harm others. These are powerful causes that lead to any crisis," he said.
Tyranny, he said, along with Aids, were the result of "the diseases of the human soul" and he was waiting for "a spiritual rain to descend" to wash away such ills.
His ideas have fallen on fertile ground. Australia's 350,000 Muslims have often felt victimised at the hands of mainstream society following the attacks in New York and the Pentagon on September 11, and, for some, Sheikh Umar's tour has been an opportunity to re-energise their faith.
"I've heard so much about this wonderful, wonderful person," said Farah, a 23-year-old arts student. "He is a descendant of the Prophet Mohammed. The way he talks is just so amazing, it is so humble, so beautiful and to be in his presence is just an inspiration. He is someone we can learn from."
Ghassan Baghdadi, 31, who is studying ancient history, was equally enthusiastic about Sheikh Umar's visit. "I have come seeking more spiritual knowledge and guidance. He is a very different type of Sheikh to what we usually get from other imams. His message is deeper, more spiritual. It's been a privilege to be here."
"The world needs more spiritualism," Mr Baghdadi added. "When you are at peace with yourself, you can accomplish more when you have a clearer mind, a clearer view of life."
Sara, a 19-year-old law student, said, "Spirituality is not just important to Muslims but even non-Muslims can appreciate the messages he sends across because it is all about humanity and love for the planet, so it is pretty good. Everyone can get something out of it."
Sheikh Umar lives in the community where he was born in southern Yemen, the ancient town of Tarim that sits in the Hadhramaut Valley, which is steeped in rich theological and academic history.
As a young man, he saw his father, a distinguished scholar, abducted by communist forces. He has never been seen since, and Sheikh Umar has assumed the
responsibility of continuing his father's work in the field of Da'wah, which promotes and spreads the word of Islam.
His missionary fervour has taken him to all corners of the globe, from the House of Lords in Britain to Africa and the Gulf States as well as Pakistan and Indonesia, the world's largest Muslim democracy.
Islamic groups in Australia regard his lecture tour as a chance for Muslims to reaffirm their beliefs that can often weaken under the pressures of modern, western life, according to Ramzi Elsayed, president of the Islamic Council of Victoria.
"He is in the business of connecting people with our creator and god and reviving their spirituality. In a day and age when people are spiritually malnourished, he brings out in people a feeling they don't often get and that guidance is being embraced."
"We do find that when we get speakers and scholars of his calibre, it is a big morale boost to the Muslim community. It is uplifting and these messages will linger."
https://seekersguidance.org/wp-content/uploads/2016/08/alHabibUmarBinHafiz.jpg
400
266
Content Team
https://seekersguidance.org/svg/Logo/SG_Logo_v23.svg
Content Team
2009-05-21 00:57:04
2020-04-29 22:45:56
Habib Umar – Cautioning Against Greed and Materialism in Australia