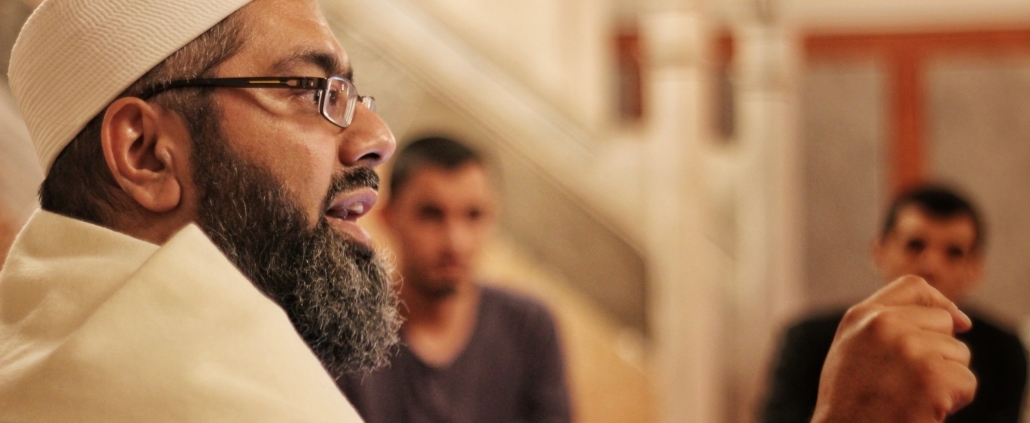 Qur'anic Reflections: Divine Tests and the Great Virtue of Steadfast Patience
---
In the Name of Allah, the Benevolent, the Merciful
Divine Tests and the Great Virtue of Steadfast Patience



Allah Most High tells us in the Qur'an:
"And We will surely test you with something of fear and hunger and a loss of wealth and lives and fruits, but give good tidings to the patient, who, when distress strikes them, say, "Indeed we belong to Allah , and indeed to Him we will return." Those are the ones upon whom are blessings from their Lord and mercy. And it is those who are the truly guided." [Qur'an, 2.155-157]
It has come in hadith from the Beloved Messenger of Allah (peace & blessings be upon him & his folk) that, "Whoever says 'innaa li'l Llahi wa innaa ilayhi raji`un (We are Allah's and to Him is our return)' in distress, Allah will reward them for it and grant them good in exchange."
It has also come in hadith that once a lamp got extinguished, so the Prophet (Allah bless him and give him peace) said "innaa li'l Llahi wa innaa ilayhi raji`un (We are Allah's and to Him is our return)." A'isha (Allah be pleased with her) remarked, "It is only a lamp!" The Prophet (Allah bless him and give him peace) responded, "Everything that displeases the believer is distress." [Abu Dawud, in his Marasil]
The Meaning of 'innaa li'l Llahi wa innaa ilayhi raji`un' (We are Allah's and to Him is our return)
It is explained in Tafsir al-Jalalayn that this means:
(We are Allah's) as His property and servants, and He can do with us as He wills. (And to Him is our return) in the Hereafter, where He will recompense us.
Realization of Slavehood
This is a realization of one's slavehood (`ubudiyya), that Allah is both one's Creator and Sustainer; that everything is from Allah; and that one's responsibility and opportunity is to accept things insofar as they are from Allah, and to turn to Him in both ease and distress in the ways most likely to be most pleasing to Him.
The Meaning of "Give good tidings to the patient"
Patience is to remain firm on what is pleasing to Allah.
Ibn Ajiba states:
(Give good tidings to the patient) namely, those who remain resolute in their seeking. They shall attain unto everything that they long for, and will reach that will they set forth for. They are those when faced by obstacles or impediments realize their neediness as servants of Allah, and attach themselves to the Power of His Lordship. So they return to Allah in all matters. And He thereby grants them shelter from all things. This are the ones who have particular concern from their Lord and those whom He draws close. (And it is those who are truly guided) to close proximity to the Beloved. [Ibn Ajiba, al-Bahr al-Madid]
Shaykh al-Islam Abu Su`ud said in his Qur'anic exegesis,
"Patience is not merely uttering this statement of return ("innaa li'llahi…") with the tongue. Rather, it is to affirm its meaning with the heart (at well), such that one brings to mind what one was created for; that one is returning to their Lord; reminding oneself of Allah's blessings upon one; and to remember that what remains of these blessings is many times greater than what was lost (in the difficulty). If one does this, then the distress will become easy to bear, and it will return to submission."
He continues by explaining that the good tidings are what is mentioned after: it is such steadfastly patient individuals are those who are truly guided to all that is correct and true–which is why they surrender, submit, and return to Allah in accepting His Decree (qada'). And it is these people who succeed in attaining their religious and worldly goals, because anyone who attains unto their Allah's concern, mercy, and blessings will not have missed out on anything worth seeking. [Tafsir Abu's Su`ud]
Ibn Juzayy states:
A point of benefit: Patience has been mentioned in the Qur'an in more than seventy places, because of the tremendousness of its place in religion. Some of the scholar have said that all good deeds have known reward except for patience, because the reward of patience is beyond measure–because Allah Most High states, "The patient shall be granted their reward beyond measure."
Related Entries:
SG Blog: The Qur'an on Patience, Steadfastness, Resolve, Mindfulness, and Success – 3.200
SG IslamCast: Patience (sabr)–its virtues, reality, and manifestation – Faraz Rabbani – Khutba
Guidance of the Prophet Muhammad on the Virtues of Patience (and Thankfulness) in Tribulation and Hardship

And Allah alone gives success.
Faraz Rabbani
https://seekersguidance.org/wp-content/uploads/2020/02/SFR.jpeg
687
1030
Content Team
https://seekersguidance.org/svg/Logo/SG_Logo_v23.svg
Content Team
2010-08-26 17:05:41
2022-05-11 16:31:12
Qur'anic Reflections: Divine Tests and the Great Virtue of Steadfast Patience