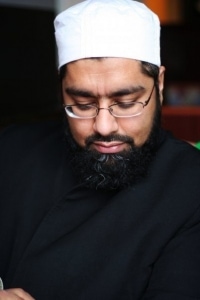 Shaykh Faraz Rabbani, Educational Director of SeekersGuidance and
Michelle  Yeung, Program Manager for SeekersSeminars
joined Muslim  Perspectives host Alim  Ali on Sunday, May 16th to discuss the process of getting  married in Islam, and the  upcoming seminar
Getting Married:  Clear and  Practical Guidance for  Success
, to be held in Toronto on Saturday May 22nd. Listen to the recording here.
This is the first opportunity for Toronto audiences to participate in the
Getting  Married
seminar, which has seen several successful offerings in the U.S., most recently  in Maryland.
Shaykh Faraz reminded listeners that
marriage is half one's religion
, and that for  marriage to succeed couples must have a sense of the higher, spiritual purpose of  marriage.  He added that t

he usual challenges of marriage are compounded for  Muslims, who often contend with the demands of culture and of balancing multiple  identities.
Islam offers us solutions to these challenges through the beautiful example of the Prophet Muhammad (peace and blessings be upon him), who said that "The believers who are most perfect in faith are those who are best in character. And the best of you are the best to their spouses–and I am the best of you to their spouses."  By examining his example, and exploring how to apply it in today's context, the Toronto seminar will offer critical guidance not only for attendees planning on getting married, but also for married couples who hope to bring greater spiritual meaning into their marriage.
Shaykh Faraz went on to emphasize the crucial need for the guidance offered by the seminar for today's Muslims.  Many people are getting married without being ready for marriage, not understanding its true purpose and aim as a spiritual act or even such practical matters as how to find and choose a spouse.  Michelle encouraged attendees to bring their own questions to the seminar.  Because marriage is so individual a matter, there will be many opportunities to ask questions, including spaces for private Q and A.
Shaykh Faraz concluded by reminding listeners that the Prophet (peace and blessings be upon him)  described this world as a provision, and said that the best of its provisions is a righteous spouse.  Provisions, Shaykh Faraz explained, are what one takes on a journey, and that the journey of the Believer is to Allah and one's eternal standing in the hereafter.
To register for the seminar go to:
http://gettingmarriedtoronto.eventbrite.com

When: Saturday May 22nd, 11am to 5:00pm
Where: U of T Multi Faith Centre, 569 Spadina Avenue
Facebook http://www.facebook.com/seekersguidance?v=app_2344061033&ref=ts#!/event.php?eid=112756488760201&index=1