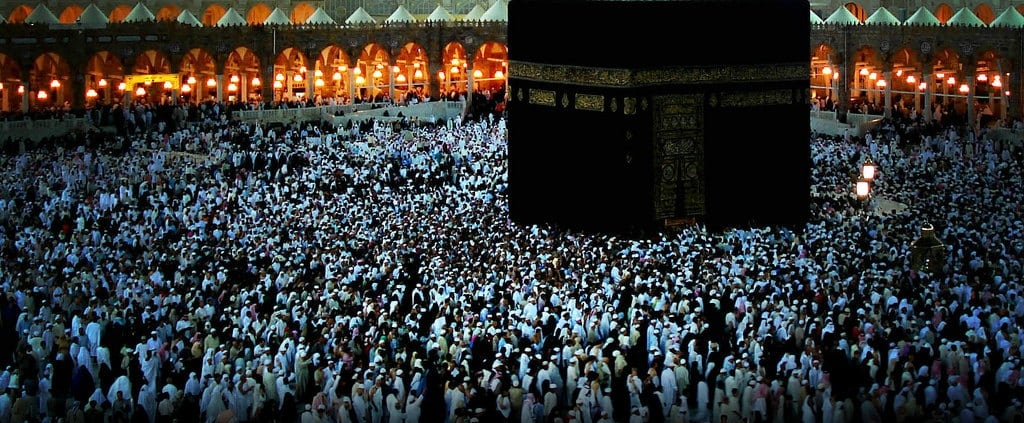 Seeking Guidance Online in the Land of the Prophet's Birth
---
Brother Abdullah Ibn Zubair Buhaini was born to a family of scholars in the Philippines, but decided not to pursue Sacred Knowledge. Years later, as a busy website designer in Saudi Arabia, he realized that he felt increasingly drawn to the idea of learning—but had no opportunity to do so. Alhamdulillah, he found SeekersGuidance and enrolled in the Beginning of Guidance course. This year, Allah brought him and his teacher, Shaykh Yahya Rhodus, together in a serendipitous, blessed meeting in the holy city of Mecca. Here, he shares his experience.
I saw a man whose face was full of light
I was recently blessed to travel to Mecca to perform the Umrah. I was equally blessed to meet my SeekersGuidance teacher, Shaykh Yayha Rhodus, while I was there. It was an amazing miracle that we were both at the same place, at the same time.
It was the day of my son's aqeeqah back home in the Philippines, and I was feeling very emotional because I couldn't be there with my family. At the Ka'aba, I was being pulled away from the direction I wanted to go in. I was supposed to go left, but I couldn't pass, so I turned right. Then, I saw a man whose face was full of light. I recognized him instantly—it was indeed Shaykh Yahya.
The meeting itself was brief, yet full of light. Shaykh Yahya and I introduced ourselves. He asked me where I was from and made duaa for me, "May Allah bless you and continuously guide us."
I don't even know how to explain how I felt standing there, with my teacher–who I have never met–right beside me. Straight away, I called my father to tell him that I believed I was surely on the right path.
From a family of scholars
I am from a family of pious and religious people from my homeland, the Philippines. We live in a village called Taluksangay, in the city of Zamboanga. Our ancestors followed the Ahl al-Sunna wal-Jama'ah, and celebrate the mawlid up to this day. My grandfather is a scholar (alim) who graduated from Al-Azhar University, and my father is the imam in our village. Both hoped that I would also follow their footsteps.
The crisis of knowledge
My father follows the Shaf'i madhab. My younger sister graduated from Sanawih, the top Sunni institute in Zamboanga. She used to listen to Habib Ali Al Jifri's lectures in Arabic, and introduced my father to his teachings.
I remember the first time we installed an internet connection in our house. Not a day passed except that my sister and my father would listen to Habib Ali's lectures or read his works.
Then, there came a crisis of knowledge, and accurate and reliable Scared Knowledge became hard to find.  There were conflicts in the community regarding issues of aqidah, fiqh, mawlid and other matters.
It was a disaster.
My father had high hopes that I would be interested in looking after the spiritual future of our village by seeking knowledge. However, after I finished my high school studies in 2004, I chose to leave Islamic studies, and instead pursued qualifications in computer science.
The Beginning of my Guidance
In 2012, I decided to apply for work abroad and was hired to work in Saudi Arabia. In February 2013, I flew to Riyadh to work as a web designer.
The night before, my father begged me to not only seek knowledge but to make sure that I sought accurately transmitted knowledge from qualified scholars. "Search for the teachings of our scholars like Imam al-Shaf'i, Imam Ghazali, Imam Suyuti, Imam Al Asqalani, Al Qaradawi, Al Alawi Almaliki, and Habib Ali Al Jifri," he counselled.
Knowledge gone wrong
Working as a web designer, I was in front of a computer all day. One day when I had some free time, Allah inspired me to open up Youtube and search for Habib Ali al-Jifri.
Alhamdulillah, maybe because of the dua of my father, I began to use all my free time to seek knowledge.
When I told my father, he was very happy and my family prayed that Allah would show me the way to accurate and reliable knowledge.
The question was, how would I find it? I had no idea where to start. As a busy man working in Saudi Arabia, I had little access to access to accurate, reliable Sacred Knowledge.
I found SeekersGuidance
As I was watching Habib Ali al-Jifri videos, Youtube made suggestions of other videos. That's how, one day, I clicked the video of Shaykh Ahmed Saad Al Azhari and soon after, in early 2014, I found a SeekersGuidance video by Shaykh Faraz Rabbani, also on Youtube.
I kept visiting the SeekersGuidance website to try to enroll in the courses. However, as it was already mid-term and the classes had long since begun, I could not enroll, so I subscribed to the newsletter.
In 2015, I received an email that the courses were open for enrollment. And that is the beginning of guidance. Alhamdulillah, I enrolled in the Beginning of Guidance Course, taught by Shaykh Yahya.
Advice from a seeker
For those of you who want to seek guidance and do not know where to start, the Beginning of Guidance course with Shaykh Yahya Rhodus is the answer.
It's based on a book by Imam Ghazali, which Shaykh Yahya explains in extraordinary detail. I found the teachings about how to manage my day from the moment I wake up to the moment I go to sleep, personally very useful.
During the course, we had access to three live sessions with Shaykh Yahya. These sessions were an opportunity for me to ask questions, and to seek benefit from time spent with people of beneficial knowledge.
I would recommend this course to everyone who intends to seek knowledge that has beneficial guidance in it. Seeking knowledge without guidance will only turn us away from Allah.
InshaAllah, May Allah grant us all opportunities to meet and spend time with our teachers, the way I met Shaykh Yahya, in Makkah of all places.
Not only did I find knowledge, I found the type of knowledge that my ancestors had—accurate, reliable and relevant.
Resources for Seekers
Cover photo by Elias Pirasteh
https://seekersguidance.org/wp-content/uploads/2016/03/Kaaba-Makkah2.jpg
647
1024
Content Team
https://seekersguidance.org/svg/Logo/SG_Logo_v23.svg
Content Team
2016-03-10 01:00:38
2022-07-30 19:16:12
Seeking Guidance Online in the Land of the Prophet's Birth