From Madinah To Malaysia: Reflections by Ustadha Raidah Shah Idil
---
Shaykh Yahya Rhodus is a lot taller in real life.
When he stood up at the end of his lecture last night, I watched him return the greetings of the men and women who had gathered around him. He was careful to take the time to smile and chat to each person who approached him. That's no small feat, given the fact that he had been speaking for almost two and a half hours. Now that's what I call walking the walk, and talking the talk.
Shaykh Yahya has a way about him; a gentleness and dignity that comes from being firmly grounded in traditional knowledge. He is a living example of the amanah (trust) given to humanity 1434 years ago.
Last night's lecture, "Putrajaya & Madinah: Keeping Rasulullah's Amanah" was a timely reminder about the importance of keeping our trusts. As Shaykh Yahya pointed out, the very fact that we were sitting in a lecture hall in Malaysia is proof that this Prophetic trust was successfully passed from heart to heart, all the way from Madinah to Putrajaya. Shaykh Yahya then went on to describe the real-world implications of keeping our trusts, whether we are parents at home with our children, workers in the office, or participants in the political sphere.
Speaking of politics, I don't live in Malaysia, but I got the vibe last night that politics is a heated topic here. In response to questions about the political situation in Malaysia, Shaykh Yahya said that a lot of us want microwave answers for sticky questions, but there aren't any. He emphasised that to inculcate amanah in general, we need environmental prerequisites because amanah doesn't grow in a vacuum. Political change needs to be instigated within the realms of sacred law, and always with the remembrance that there is wisdom behind all things. Shaykh Yahya then segued to the rapidly deteriorating situation in the Middle East. He emphasised the importance of security and safety and how lack of amanah is a major ingredient of turmoil in the Middle East. He reminded us that despite outwards appearances, there is still Divine Wisdom behind the turmoil, and it's important not to give into despair.
Stepping away from the political stage and into our homes, I asked Shaykh Yahya how to inculcate amanah in our nephews, nieces and children, and his answer was, "By example. If you don't want your kids to lie, then don't tell them to tell the person knocking on the door that there's nobody home. You can tell them to come back later, but don't lie." That made me stop and think. I have a two-year old niece, and she keeps me honest. She mimics what I do, and if I want her to grow up to be a trustworthy human being, then I have to be trustworthy myself.
Ustadha Mariam Bashar from SeekersGuidance asked Shaykh Yahya how people of knowledge can give amanah to people who ask them for advice, because often, there's not enough time to give everyone their due. Shaykh Yahya said the solution is to focus on education, donate to Islamic educational institutions, and to never despair in the mercy of Allah. If people are sincere, they will get their answers from Allah. Never underestimate the power of du'a. Also, keep doing salawat upon the Prophet (peace and blessings be upon him) as well as plenty of istighfar.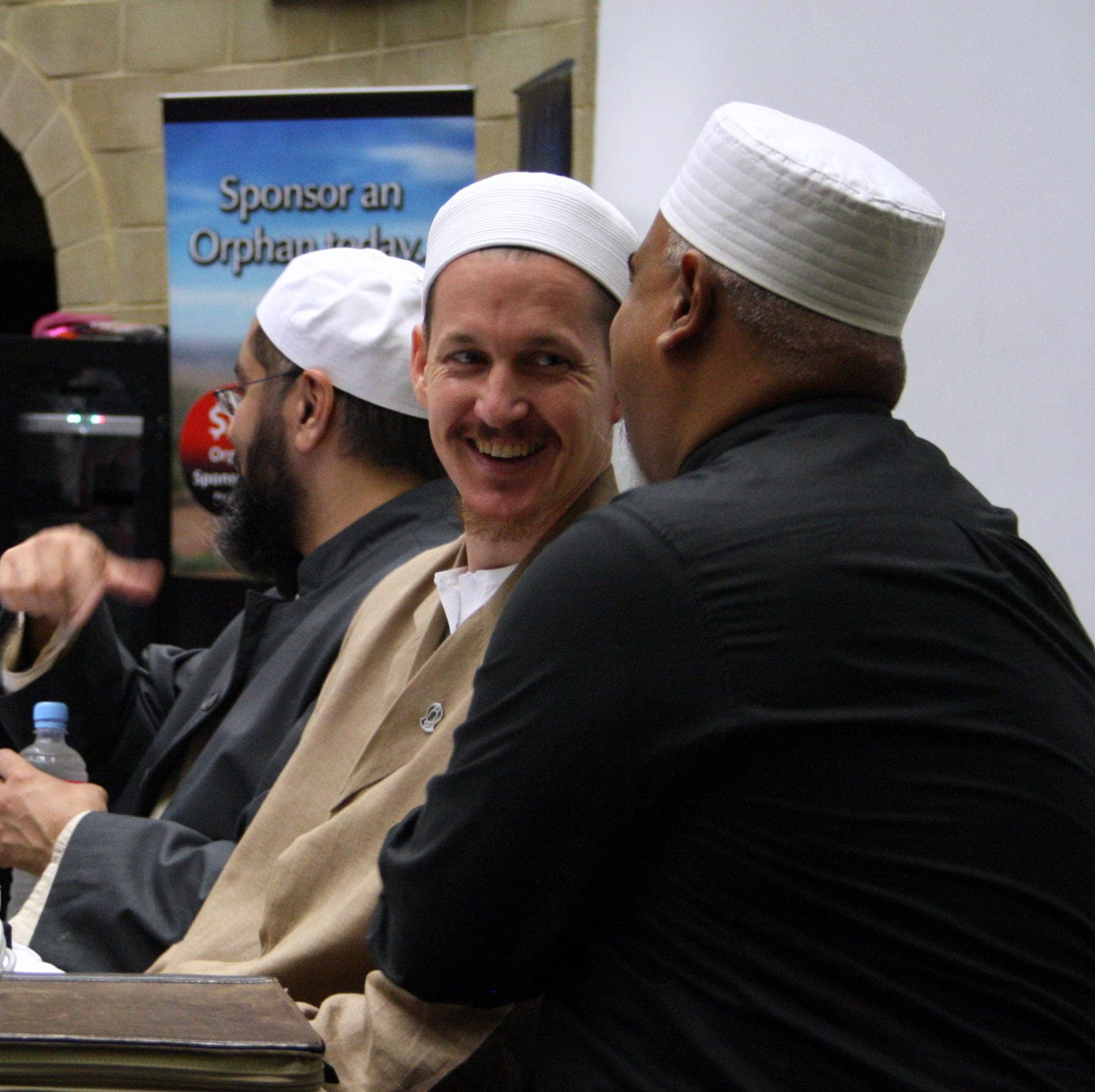 Shaykh Yahya brought up a personal story during the talk last night. He was in university when he embraced Islam, and he wanted to leave his studies, go overseas and study Islam. Not surprisingly, his mother wanted him to finish his degree first. He sought advice from Shaykh Hamza Yusuf, who told him, "Your mum's done a lot for you. Finish your studies." Shaykh Yahya left Shaykh Hamza's home feeling disillusioned and sad. Fortunately for him, Shaykh Hamza's sister, overheard their conversation and had a word with Shaykh Hamza along the lines of, "How could you say that? Allah opened a door for him which may not open again."
With this piece of sisterly advice in mind, Shaykh Hamza then told Shaykh Yahya, "Just go." And now, a long way away from his birthplace of Kansas, Shaykh Yahya is connecting hearts to the Prophetic amanah, and completing a PhD under the supervision of Shaykh Abdul-Hakim Murad. Allahu Akbar. Shaykh Yahya used his story to emphasise how as Muslims, we need to be good decision-makers. What decisions are you making and why?
His story struck a chord with me, because I left medical school to study the sacred sciences in Jordan. Was it a hard choice? Of course it was. Anyone from a South-East Asian background is in for a world of pain if you leave medical school. Adjusting to life in Jordan away from friends and family was a whole new test of tawwakul. Was it worth it? Absolutely. That choice I made set in motion a series of events which would otherwise never have happened – I got to study my deen at the hands of scholars, go on Hajj with my brother, and then return to Sydney, revived.
Before he ended his talk, Shaykh Yahya spoke highly of Professor Syed Muhammad Naquib Al-Attas, reminding everyone in the audience of the blessing of having him so close to home. Professor Al-Attas is a living legend who has inspired the likes of Shaykh Yahya as well as his teachers. Professor Dr. Muhammad Zainiy Uthman has been giving lectures based on Professor Al-Attas' book, Islam and Secularism, every second Monday at UTM (University of Technology of Malaysia).
On that closing note, may Allah help us all benefit from the inheritors of the Prophet (peace and blessings be upon him), near and far, until they are called back to Him.
Special thanks goes to the organisers – HAK, Peace Meal and the SeekersPoint KL crew. The cups of spiced coffee and curry puffs were a lovely touch of local hospitality. I'll be attending tonight's lecture with Shaykh Yahya Rhodus in Taman Jaya, titled, "Questions For The Tall White Man". The intriguing title makes me wonder if we'll be deconstructing Orientalist thought. Stay tuned!
Ustadha Raidah Shah Idil has spent almost two years in Amman, Jordan, where she learned Shafi'i' fiqh, Arabic, Seerah, Aqeedah, Tasawwuf, Tafsir and Tajweed. She continues to study with her Teachers through Qibla Academy and SeekersHub Global. She also graduated with a Psychology and English degree from University of New South Wales.
https://seekersguidance.org/wp-content/uploads/2013/09/1-IMG_7162.jpg
2048
1481
Erin
https://seekersguidance.org/svg/Logo/SG_Logo_v23.svg
Erin
2013-09-13 02:00:55
2019-04-06 11:23:42
From Madinah To Malaysia: Reflections by Ustadha Raidah Shah Idil