Marvelling at the Heart – Reflections by Sidi Suhayb
"Verily, in the body is a small piece of flesh that if it is healthy, the whole body is healthy and if it is sick, the whole body is sick. This small piece of flesh is the heart." [Bukhari and Muslim]
[Marvels of the heart course]
Knowledge of the heart is considered to be fard al-ayn (an individual obligation), and after completing the Marvels of the Heart course with Shaykh Yahya Rhodus, I understand why.
This is my first time doing a course with Shaykh Yahya Rhodus. I found him to be a person who reminds you of All Mighty Allah when you look at him. He exudes gentleness and mercy and I was left wanting whatever it is that he has. His character alone would guide people to Islam.
[Transforming and life changing]
The course is nothing short of amazing and to this day remains my favourite Seekers Guidance course, and if acted upon, the most transformative and life-changing. From the beginning of the course to the very end it is full of insight and deep meaning.
I have only done this course once but intend to do it again God Willing. With this course in particular, I bought a translation of the text. I would read the relevant chapter in English before listening to the lesson and then read along again during the lesson, ultimately reading the book twice throughout the course. This really helped me to grasp the concepts.
I converted to Islam around thirteen years ago Praise be to be God, and really just thought that after taking my shahadah that somehow I would be miraculously cured of all the problems I had in life. Somehow without making any effort except saying I believe that All Mighty Allah would grant me a huge spiritual experience and all would be well. Thirteen years later I realise this is not going to be the case for me and that I am going to have to struggle against my ego and my desires, that I need to really strive to seek Allah's pleasure, All Mighty Allah owes me nothing but I owe Him (God Almighty) everything.
The thing that really hit me throughout the course was the realisation of the state I am in. I am a person who has suffered from addictions in life to one thing and another and doing this course made me realise that even though I am in recovery alhamdulillah, I am still what you might call a suffering addict in my behaviour. I am impulsive by nature and often act on a whim to please myself. This course brought these things to my attention and made me realise that there is a better way to live my life.
[Closeness to God]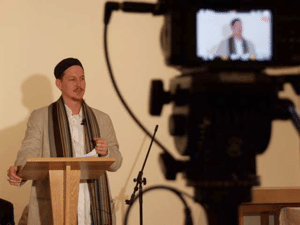 "The special characteristics of the heart are that by which we draw near to All Mighty Allah. These special characteristics are based on knowledge and will, 'ilm and irada. The will follows the guidance of the intellect. If the intellect sees something as beneficial it will drive the will to do it. It is different to the animals as the will of the human being can go against your desires based on the judgement of the intellect".
After hearing this I realised that I have an intellect and that I need to use this to keep my ego and desires in check.  Amazingly, even though the book was written so long ago, the lessons from it are so relevant today, especially in dealing with addiction. When overcoming an urge to use, the addict is encouraged to listen to the rational part of his or her brain to control that urge. Very much like the battle that takes place for the heart with the intellect acting as the advisor to the kingdom (heart) and directing the foot soldiers (our ego and desires) to stay in line. There is a battle underway for this kingdom and we must be ever vigilant.
Perhaps the scariest part is that I have now learned that the heart is ever-changing, and the science of the heart (tasawwuf) is required in every single moment because of this. There is no miraculous overnight cure heading my way, only a lifetime of struggle. But perhaps my miraculous cure is the realisation and acceptance of that.
I recommend this course to everyone and feel that it is perhaps one of the most important things we should learn. From the way it is taught to the teachings it conveys, it will change your outlook on life and how you practise your deen. If more of us are aware of the state of our hearts, its disease and how to treat them then the world will be a better place.
"If you know your heart you will know yourself, and if you know yourself you will know your Lord"
———
Purchase the book, Click here 


SeekersGuidance Course:
The Marvels of the Heart with Shaykh Yahya Rhodus
Relevant Resources:
Habib Umar's Morning Lessons on Imam Ghazali's Marvels of the Heart – Day 1 – Select Quotes
The Importance of Study in One's Spiritual Development – Imam al-Ghazzali
On Knowing Yourself to Know God – A SeekersCircle Reflection
https://seekersguidance.org/wp-content/uploads/2014/07/BISMILLAH-e1417738358469.jpg
197
900
Aashif
https://seekersguidance.org/svg/Logo/SG-Logo-Main.svg
Aashif
2014-09-07 22:42:14
2022-07-07 17:02:33
Marvelling at the Heart – Reflections by Sidi Suhayb