In light of the recent tragic events around the world, many are confused and associating Islam with people and ideas completely alien to Islam and the message of our beloved Prophet Muhammad (peace and blessings be upon him).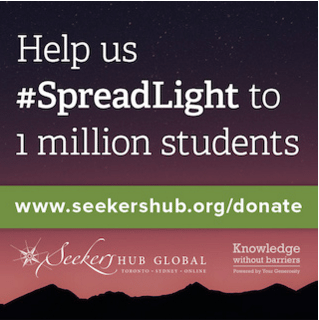 One of the main challenges that remains is spreading light and connecting people to light, an initiative SeekersHub has been striving to fulfill through the SpreadLight campaign.
There are many reliable teachers within our communities and around the world with authentic, traditional knowledge and guidance to preserve, transmit and spread light. However, they need our consistent support to enable them to teach, research, and write. This is the greatest communal obligation upon the ummah (community) of the beloved Messenger (peace and blessings be upon him) and this requires us to come together.

Why not give your zakat to support deserving scholars, eligible students of knowledge, scholars and students who are in need and difficulty? This is the most praiseworthy of zakat, and the best of charity, because the best of zakat and charity is that of the greatest benefit, and there's no greater benefit than spreading light.

https://seekersguidance.org/wp-content/uploads/2015/07/Screen-Shot-2015-07-13-at-3.26.18-pm.png
40
110
Sadia sadiaq
https://seekersguidance.org/wp-content/uploads/2019/08/SG-Logo.png
Sadia sadiaq
2015-11-18 09:00:58
2019-04-03 14:33:41
What is the single best way to fight Darkness?