SeekersGuidance Istanbul Campus Enters Second Year at Historic Location
SeekersGuidance's Dar al-Fuqaha program and our Global Manuscript Institute are now both hosted at the historic Sultan Ahmet Madrasa, between the Blue Mosque and Aya Sophia
Earlier this month SeekersGuidance penned a monumental agreement with the Sultanahmet Vakf to continue the Dar al Fuqaha Seminary program from  the historical Sultan Ahmet Madrasa. Located between two of Istanbul's crown jewels, the madrasa was originally built and commissioned to be the Dar al Hadith, and will now serve as the home of SeekersGuidance's Dar al Fuqha Seminary and Dar al Makhtutat Program. The Signing ceremony was attended by scholars and teachers from Turkey, Canada and the United States.
The entire singing ceremony is now available for you to watch, including an exclusive tour of the Sultanahmet Madrasa.
SeekersGuidance is committed to reviving, preserving and spreading the Islamic tradition around the world. Along with securing a new home for the Dar al Fuqaha Seminary, we also launched the Dar al Makhtutat: Global Manuscripts Institute, and Dar al Muwashat: The House of Sacred Arts.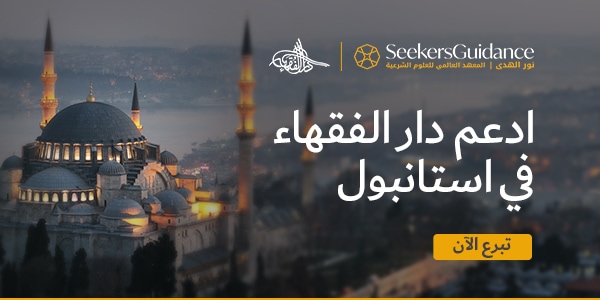 SeekersGuidance is not only committed to spreading reliable Islamic Guidance, but also preserving and reviving Islamic scholarship.
With your generous support, we have been able to launch the groundbreaking Dar al-Fuqaha Seminary in Istanbul.
This Seminary offers classes in the Islamic sciences with leading scholars–including some of the most senior Syrian scholars. Its key offering is a specialization in Islamic Law and Legal Method.
The SeekersGuidance Dar al-Fuqaha Seminary renewed for its second year at the historic Sultan Ahmed Madrasa, between Aya Sophia and the Blue Mosque.
Help SeekersGuidance spread, preserve, and revive Islamic knowledge and guidance by supporting the Dar Al Fuqaha Seminary in Istanbul.
You can be part of this legacy, by becoming a monthly supporter. Set up your monthly donation by visiting: www.seekersguidance.org/donate
https://seekersguidance.org/svg/Logo/SG-Logo-Main.svg
0
0
A H
https://seekersguidance.org/svg/Logo/SG-Logo-Main.svg
A H
2021-03-28 11:12:03
2021-12-07 14:11:48
SeekersGuidance Istanbul Campus Enters Second Year at Historic Location