---
USC Program Helps to Train Young Muslim Leaders
February 18, 2011  Mike O'Sullivan | Los Angeles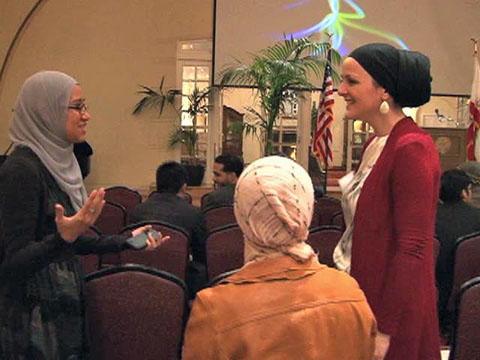 A group of young women leaders discuss key issues at the University of Southern California's American Muslim Civic Leadership Institute, February 2011
A new generation of Muslim American leaders is emerging in the United States. And a project at the University of Southern California called American Muslim Civic Leadership Institute is helping to train them.
The American Muslim Civic Leadership Institute's approach includes stretching exercises and heart-to-heart sharing of personal stories.
One goal is to help young Muslim leaders counteract negative sentiments, like the anti-Muslim protests last year surrounding plans to build an Islamic center near the site of the terrorist attacks in New York in 2001.
Khuram Zaman, who helps to run an Internet-based Islamic educational site, said, "I think the community in general feels like it is under attack, but I think internally we've realized that we have a crisis of leadership, a crisis of vision, being able to interact with the broader society. The ground zero mosque, to me, showed our community we have a lot of work to do."
Brie Loskota is the managing director for the USC Center for Religion and Civic Culture, which created the institute. "We see the same few groups shouting past each other, trying to make inroads, and we see leaders who have all of these amazing skills isolated from each other and unable to really meet the needs of their community, and also meet this other demand to see Muslims actively engaging the public square in ways that are productive," said Loskota.
These young men and women come from a variety of professional backgrounds. Some work for religious organizations, others alongside non-Muslims in community groups. Samar Ahmad, with the Ohio Alliance to End Sexual Violence, said "I find it's a really unique position to be in as a leader, is to be able to bring the perspective of the communities that I'm from and to be able to bring that to the table with the mainstream sexual violence movement, at the same time, being able to bring back the messages from the mainstream sexual violence movement to the American Muslim community."
Like other young Americans, young Muslims often turn to the Internet for information. The website Altmuslimah addresses the changing role of women and gender conflicts, said its editor-in-chief, Asma Uddin.
"Much of the content on our site is about precisely those sorts of conflicts, the really deep issues of relationships and gender identity and the question of gender roles, for instance," said Uddin.
Participants in the American Muslim Civic Leadership Institute program come from many ethnic backgrounds and different branches of Islam. They include native-born Americans and the children of immigrants from all parts of the Muslim world.
Megan Putney is an American-born convert. "I am a product of the Islamic Center of New York University. I can proudly say that. And that's a very inclusive community there, with people from all walks of life, not just students."
California community worker Asma Men said participants bring their own perspectives and get along well. "It's amazing. Everybody is just extremely open-minded, and I wouldn't necessarily say that's something our parents aren't, but they're used to their comfortable ways of a certain community and that's just something they're comfortable with. And I think for us, because we were born here or we've been raised here, we have to integrate within the society, and it gives us more of an advantage."
Nadia Roumani is director of the American Muslim Leadership Institute. She said the program brings young leaders together from different parts of the country to forge relationships, and helps them to plan strategy to solve problems in their communities. "Whether it's fair housing or economic justice or immigration reform issues, whatever the issue may be."
A professional actor helps the leaders develop story-telling skills to engage people on a personal level. Learning to better communicate with other Americans is important for Muslims in all parts of the country, says Syed Mohiuddin of Detroit.
"These are our people now," said Mohiuddin. "It's not the dude back home. It's the guy who doesn't have an education and the girl who's not being taken care of with family support.  So what can we do to rewrite the narrative of Detroit?"
And what, he asks, can these young leaders do to shape the American Muslim story?
https://seekersguidance.org/svg/Logo/SG-Logo-Main.svg
0
0
Content Team
https://seekersguidance.org/svg/Logo/SG-Logo-Main.svg
Content Team
2011-03-08 23:04:09
2020-01-21 09:52:19
USC Program Helps to Train Young Muslim Leaders