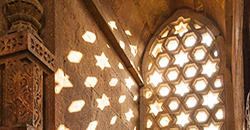 Joy at the Birth of the Prophet (Allah bless him and grant him peace): The Narration Concerning Abu Lahab
Shafi'i Fiqh
Hanafi Fiqh
Answered by Sidi Abdullah Anik Misra
Question: Can you shed a bit of light on the issue of the hadith that says something to the effect that Abu Lahab will be given an easement from punishment on Mondays because he was so overjoyed by the birth of the Prophet (Allah bless him) that he freed a slave of his. I have heard that it is in Bukhari, yet I have read elsewhere that is isn't sahih. This has confused me quite a bit. Insha Allah you can share a bit of clarification.
Answer: Wa alaikum salam,
Thank you for your question.
The hadeeth you are speaking about is definitely rigorously-authenticated (saheeh) and it is found in the Saheeh of al-Bukhari.
'Urwah ibn al-Zubayr narrated a long hadeeth and mentioned Thuwayba, the first wet-nurse of the beloved Messenger of Allah (peace and blessings be upon him) and slavewoman of his cruel uncle, Abu Lahab.  'Urwah adds a note at the end of his narration, saying:
"And Thuwayba was the freed slave of Abu Lahab. Abu Lahab freed her, and then she nursed the Prophet (peace and blessings be upon him).  So when Abu Lahab died [in disbelief], he was shown to someone in his family [in a dream] in the most wretched of conditions, and [that relative – they say it was 'Abbas] said to him: 'What did you find [after death]?' So Abu Lahab replied, 'I didn't find [any rest] since I left you all, except that I was given to drink *this little amount* because of my freeing Thuwayba.'" [al-Bukhari, Saheeh]
On the day the Prophet (peace be upon him) was born, Thuwayba rushed to her master Abu Lahab in joy and said, "Have you heard?!  Aminah has just given birth to a son, for your brother Abdullah!" As was the custom of Arabs to show generosity at receiving good news, and since this was the newborn son (peace be upon him) of his recently deceased brother, Abu Lahab gestured with his thumb and forefinger, saying to Thuwayba, "Go, for you are free."  For this, his punishment in the Hereafter is lessened by a small sip of water equal to what could be held in the small curve of flesh at the base of the thumb till the forefinger ['Abdur-Razzaq, Mussanaf].
Some say that because this portion of the hadeeth does not name the link in the chain of narration between 'Urwah and the one who saw the dream, it is therefore automatically inauthentic and disregarded, since scholars postulate that it was 'Abbas who saw the dream, and 'Urwah was only 6 years old at the time of his death.  This does not mean however, that 'Urwah had never heard it with a sound chain, or the incident should be written-off, or not true – in fact, being one of the seven main jurists of Madina in his time, 'Urwah would not have added this portion unless he was confident and aware of its authenticity.
Ibn Hajr, al-'Ayni and al-Qastalani, when analyzing this hadeeth in their commentaries on al-Bukhari, never once commented whether the incident happened or not, rather, only whether this narration could be used as proof that a non-believer could be rewarded for their good deeds after death.  They said that if we assume there was an unidentified link missing, then it would not be of the strength to change an established ruling, but they also balanced that by saying the narration could be fully connected and acceptable, but even so, a dream cannot be used as proof to change, or even effect, a legal ruling, especially when conflicting with a Qur'anic verse, as is the case here.  In the end, they all recognized that this lightening of punishment was an exception made for Abu Lahab, the way it was made for Abu Talib.
Ibn Hajr closed his analysis by saying, "I declare: the final point of all this is that the above-mentioned divine grace occurs, due to [Allah's] pure magnanimity, on those of the non-believers from whom occurs an act of kindness to him [peace be upon him], and the likes of that – and Allah knows best." [Ibn Hajr, Fath al-Bari]
It is essential to understand that the polemics around this hadeeth today are no longer whether or not non-believers are generally rewarded for their good deeds in the Hereafter, but rather, whether there is a reward for celebrating the birth of the Prophet Muhammad (peace be upon him) and about expressing joy over the occasion.
To disprove this in modern times, people have criticized this hadeeth, though other times they would adhere very strictly to everything narrated in al-Bukhari.  Since al-Bukhari's collection is the most authentic book in Islam after the Qur'an, would al-Bukhari not have realized if he was including a baseless, disconnected, dream-based report alongside such a strong main narration, and be the only one out of the 6 most authentic compilers to do so?  Obviously, his including it is a testament to his stance on its acceptability, plausibility and ability to edify the ummah on something beneficial – like the rest of his compilation.
Ibn al-Mulaqqin in his commentary states that both al-Bayhaqi and al-Baghawi point out that this narration was "mentioned by al-Bukhari in his Saheeh", and that "they both meant: in the main portion of the hadeeth itself"- in other words, the narration was understood to take the ruling of the longer rigorously-authenticated hadeeth it was part of.  The incident had been accepted by the ummah thereafter and is cited regularly in seerah works such as those by Ibn Katheer and Zayn al-Deen al-'Iraqi, and even by Ibn Taymiyya in al-Sarim al-Maslul and Ibn al-Qayyim in Tuhfat al-Mawdud.
Having said this, instead of leading people into polemics, would it not be better for us to remember the upshot of this all?  As Hafiz Nasir al-Deen put it:
"If this was the disbeliever, on whom condemnation came,
And 'his two hands perished' in the eternal flame,
And it comes that every Monday, repeated till no end,
His torment is lessened, for the joy he felt in Ahmed.
Then what of the servant who, his whole life did lead
In joy for the birth of Ahmed, then died believing in Divine Oneness? "
[quoted by al-Zurqani, Sharh Mawahib of al-Qastallani]
Wasallam,
Abdullah Anik Misra
Checked & Approved by Faraz Rabbani
https://seekersguidance.org/wp-content/uploads/2022/03/live_page_Ibn-Sayyid-alNass-Light-of-the-Eyes-An-Introduction-to-the-Prophetic-Biography.jpg
130
250
sufyan
https://seekersguidance.org/svg/Logo/SG-Logo-Main.svg
sufyan
2010-04-20 22:05:39
2022-05-22 11:07:42
Joy at the Birth of the Prophet (Allah bless him and grant him peace): The Narration Concerning Abu Lahab