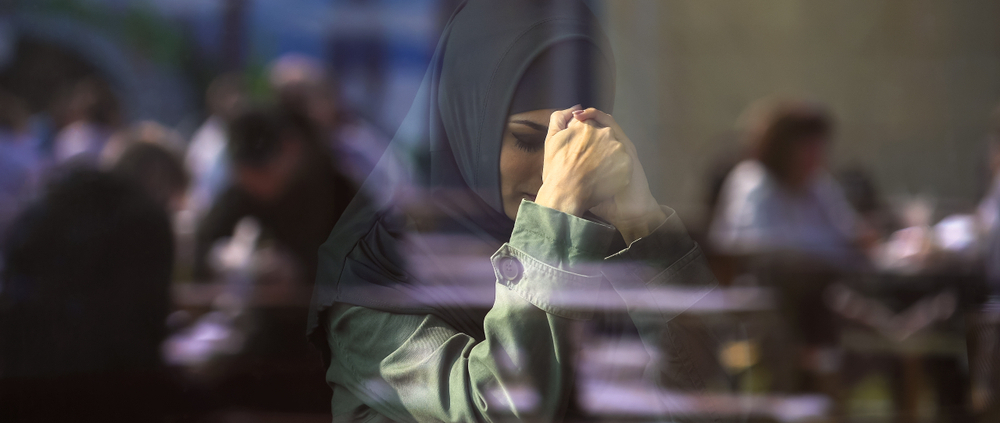 I Threatened My Husband, and He Divorced Me, but Was It Valid?
Shafi'i Fiqh
Answered by Shaykh Irshaad Sedick
Question 
I am a pregnant woman, and a few weeks ago, my husband and I got into a heated argument in which he got furious while chewing on some khat leaves. He raised his hands to slap me and push me down to the chair in his rage.
I got agitated and started yelling at him to divorce me. He got furious and said that he would not divorce me and beat me if I didn't stop. I told him that if he didn't divorce me, I would pounce on him, and he would be forced to beat me badly and kill the baby and me.
He got angrier and said you're divorced. Some people said this divorce doesn't count. It is also the last and final divorce (should it be valid). I would like to know if it counts or not?
Answer
In the Name of Allah, the Most Merciful and Compassionate. May Allah guide us to that which pleases Him, forgive us for our shortcomings, and alleviate our difficulties, Amin.
We are sorry to hear about your ordeal and empathise with you deeply. You have been through so much with this situation, and it would be best to find contentment with Allah by repenting from all the wrongs you both may have fallen prey to, and Allah knows best. Please remember that Islam condemns violence and that the behaviour you described is unbecoming of any human, especially believing men and women.
Based on your description, your husband issued a divorce upon practically being threatened and coerced by yourself. The divorce pronouncement is, therefore, not valid. Allah knows best.
Pronouncing Divorce Upon Coercion
According to the dominant view of the Shafi'i School, a divorce is valid from any:
(a) husband;
(b) who is sane;
(c) has reached puberty;
(d) and who voluntarily effects it.
[Misri, 'Umdat Al-Salik]
A Divorce Is Not Valid From:
(1) (non-(c) above) a child;
(2) (non-(b) someone insane;
(3) or (non-(d) someone who is wrongfully coerced to do it, as when one is threatened with death, dismemberment, being severely beaten, or even mere verbal abuse or a slight beating if the person being coerced is someone whose public image is important and would thereby suffer. Please note that someone being forced should use words that give a misleading impression of his ostensible "divorce." [ibid.]
Divorce under Provocation or in Anger
It is important to note that pronouncing divorce in anger does not invalidate a divorce in most cases. The divorce pronouncement you described is invalid because of the threat and coercion, not because it was pronounced in anger, and Allah knows best.
I pray this is of benefit.
[Shaykh] Irshaad Sedick
Checked and Approved by Shaykh Faraz Rabbani
Shaykh Irshaad Sedick was raised in South Africa in a traditional Muslim family. He graduated from Dar al-Ulum al-Arabiyyah al-Islamiyyah in Strand, Western Cape, under the guidance of the late world-renowned scholar, Shaykh Taha Karaan. 
Shaykh Irshaad received Ijaza from many luminaries of the Islamic world, including Shaykh Taha Karaan, Mawlana Yusuf Karaan, and Mawlana Abdul Hafeez Makki, among others.
He is the author of the text "The Musnad of Ahmad ibn Hanbal: A Hujjah or not?" He has served as the Director of the Discover Islam Centre and Al Jeem Foundation. For the last five years till present, he has served as the Khatib of Masjid Ar-Rashideen, Mowbray, Cape Town.
Shaykh Irshaad has thirteen years of teaching experience at some of the leading Islamic institutes in Cape Town). He is currently building an Islamic online learning and media platform called 'Isnad Academy' and pursuing his Master's degree in the study of Islam at the University of Johannesburg. He has a keen interest in healthy living and fitness.
https://seekersguidance.org/wp-content/uploads/2022/06/divorce-angry.jpg
563
1000
Mehraj ud din
https://seekersguidance.org/svg/Logo/SG-Logo-Main.svg
Mehraj ud din
2022-06-04 21:15:28
2022-06-16 21:13:25
I Threatened My Husband, and He Divorced Me, but Was It Valid?