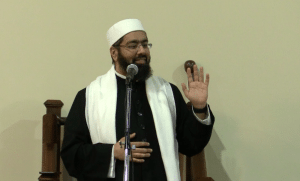 Podcast: Play in new window | Download (Duration: 24:58 — 11.4MB)
Subscribe: Apple Podcasts | Android | Google Podcasts
In this Friday sermon, Shaykh Faraz reminds the believers the importance of connecting with the Qur'an, especially with the short verses and chapters that are oft recited. The Qur'an is a gift from Allah Most High for those who are mindful of Him. The entirety of the Qur'an contains guidance for all of creation.  Certain verses of the Qur'an are keys to guidance. The shorter chapters and verses are some keys which encapsulate meanings of the entire Qur'an.
Shaykh Faraz goes on to remind the believers to constantly review the verses in the Qur'an that Prophet Muhammad (peace and blessing be upon him) recited in his prayer upon waking at night (Surat Aal Imran, verses 190-200). This will help with one's connecting to the Qur'an. He ends by reminding the believers that the good of creation comes about by connecting to the Qur'an.
This Friday khutba was delivered at the Sayeda Khadija Centre (http://www.skcentre.com/) in Mississauga, in January 2018.
---
Subscribe to Shaykh Faraz Rabbani's podcasts, or any of our other podcasts by visiting https://seekersguidance.org/podcasts.
Register to any of our classes either online or in-person in Toronto. All classes are free. Visit https://seekersguidance.org.
Help Seekershub build a Global Islamic Seminary and spread the light of guidance to millions around the world by supporting us through monthly donation by going to https://seekersguidance.org/donate – your donations are tax deductible in the US and Canada.
https://seekersguidance.org/wp-content/uploads/2018/11/Shaykh-Faraz-BIC-300x181.png
181
300
Abdul Latif
https://seekersguidance.org/wp-content/uploads/2019/08/SG-Logo.png
Abdul Latif
2018-01-17 09:00:15
2019-04-16 09:48:44
Connecting with the Qur'an: Recognizing the Benefits of the Short and Virtuous Verses and Suras - Shaykh Faraz Rabbani